Adept
Talk

0
5,483pages on
this wiki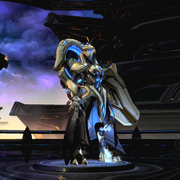 The adept is a protoss ground ranged unit that will be introduced in Legacy of the Void.
Game Unit
Edit
Adept
Unit
Race
Production
Produced from
Protection
Type
Targets
The adept is a core gateway unit with a ground-only ranged attack and normal movement speed. This unit utilizes its psionic transfer ability to teleport to nearby locations.
It is intended that the adept serve as a core unit option, taking on roles once held by the zealot and stalker, and in some cases, doing better. Its psionic transfer ability is distinct from the stalker's blink ability, in that blink is more focused on twitch-based micro, while psionic transfer is based on the timing and positioning of the teleport.[1] The adept can be controlled independently from the copy it generates.[2]
Abilities
Edit
Development
Edit
The following section contains information from a previous version of StarCraft II which is no longer valid.
The adept was a protoss unit in early builds of StarCraft II. It was a ranged attacker, but was cut during development for being too similar to the marine.[3]
"Adept" is a protoss position in the race's decal list.
References
Edit
↑ 1.0 1.1 Blizzard Entertainment. 2015-03-18. Legacy of the Void Beta Preview. Blizzard Entertainment. Accessed 2015-03-18.
↑ 2015-03-19, StarCraft II: Legacy of The Void Beta Starts March 31. The Escapist, accessed on 2015-03-21
↑ . Blizzard Entertainment. Blizzcon 2011 - Starcraft 2: Heart of the Swarm - Multiplayer Panel