"Every terran commander who's worth their salt understands the value that a faithful adjutant brings to any dust-ups that may arise in the Koprulu Sector. An adjutant's ever-present gaze over the field of battle offers a strategic edge, and helps command keep their troops in line. Who knows, deploying one of your own might just save your hide when it all hits the fan."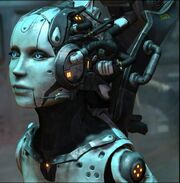 Adjutants are a form of artificial intelligence utilized by the terrans of the Koprulu sector and United Earth Directorate.
Adjutants are sometimes simply addressed as "computer",[1][2] though they're physically humanoid in design.[3] Significant portions of the original ATLAS coding and functionality still exist in them.[4] Terran commanders understand the value that adjutants bring, as their ever-present gaze over the field of battle offers a strategic edge, and helps commanders keep their troops in line.[5] Their functions include navigation,[2] administration,[6] decryption,[7][8] presenting history,[9][10] acting as advisers for terran commanders,[11] storing recipes[12] and storing data. When playing an audio feed, their eyes change color in accordance with speaker.[13][14]
In the past, adjutants were cybernetic, possessing organic components. In contrast, modern adjutants are synthetic.[15]
Known Adjutants
Edit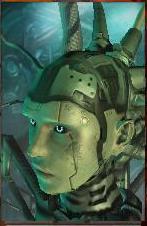 In reality, an adjutant is a military rank or appointment, usually serving as an officer who assists a more senior officer.
In the tutorial screen of StarCraft II: Wings of Liberty, if the player waits long enough after completing all the tutorials, the adjutant will say "I want to be the commander. I also want legs."[19]
An adjutant voice pack is available for download for Internet streamers.[5]
Lemon Chicken
Edit
If a player waits long enough in the briefing of Boot Camp, an adjutant will ask the magistrate if he's all right. Eventually, the adjutant will deliver a recipe for Chinese lemon chicken, which is as follows:[12]
1 pound sliced chicken breast
1 teaspoon of corn starch
3 teaspoons of soy sauce (dark)
1 sliced lemon[12]
References
Edit
↑ Gerard DuGalle: "Computer, where the hell is Lieutenant Duran?" StarCraft: Brood War. Vivendi Games. Mission: Patriot's Blood (in English). 1998.
↑ 2.0 2.1 Neilson, Micky (December 18, 2000). StarCraft: Uprising. Simon & Schuster (Pocket Star). ISBN 0-7434-1898-0 (eBook).
↑ Research Lab. Artist: Blizzard Entertainment. Accessed on 2010-05-15
↑ Project Blackstone: Are we safe?. Blizzard Entertainment. Accessed 2012-05-01
↑ 5.0 5.1 2016-09-08, KICK YOUR STREAM INTO AUDIO-OVERDRIVE WITH TWO NEW VOICE PACKS. Blizzard Entertainment, accessed on 2016-09-09
↑ Blizzard Entertainment. StarCraft II: Wings of Liberty. (Activision Blizzard). PC. Mission: Wings of Liberty, The Outlaws (in English). 2010-07-27.
↑ Blizzard Entertainment. StarCraft II: Wings of Liberty. (Activision Blizzard). PC. Mission: Wings of Liberty, The Dig (in English). 2010-07-27.
↑ Blizzard Entertainment. 2010-07-10. Uncertain Future. Blizzard Entertainment. Accessed 2010-07-10.
↑ Blizzard Entertainment. StarCraft. Vivendi Games. Mission: Desperate Alliance (in English). 1998.
↑ 12.0 12.1 12.2 Blizzard Entertainment. StarCraft. Vivendi Games. Mission: Boot Camp (in English). 1998.
↑ Blizzard Entertainment. StarCraft II: Wings of Liberty. (Activision Blizzard). PC. Conversations after Cutthroat (in English). 2010
↑ Blizzard Entertainment. StarCraft II: Wings of Liberty. (Activision Blizzard). PC. Laboratory (in English). 2010.
↑ 15.0 15.1 2011-05-31, Starcraft II: Heart of the Swarm Hands-On Preview - Zerg Campaign. Gamespot, accessed on 2011-07-08
↑ Blizzard Entertainment. StarCraft II: Wings of Liberty. (Activision Blizzard). PC. Credits. (in English). 2010.
↑ Maxwell McGee. 2011-05-31. Starcraft II: Heart of the Swarm Hands-On Preview - Zerg Campaign. Gamespot. Accessed 2011-05-31.
↑ SoMuchMass. 2011-10-22. BlizzCon 2011 - Starcraft 2: Heart of the Swarm - Campaign and Lore Panel (Full). Youtube. Accessed 2011-10-22.
↑ Blizzard Entertainment. StarCraft II: Wings of Liberty. (Activision Blizzard) (in English). July 27, 2010
↑ Blizzard Entertainment. Heroes of the Storm (Blizzard Entertainment) (in English). June 2, 2015