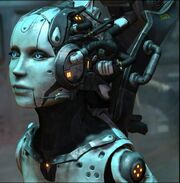 Adjutants, often simply addressed as "computer",[1][2] (though actually humanoid hardware)[3] are a form of artificial intelligence utilized by the terrans of the Koprulu sector and the United Earth Directorate. Significant portions of the original ATLAS coding and functionality still exist in them.[4] Their functions include navigation,[2] administration,[5] decryption,[6][7] presenting history,[8][9] acting as advisers for terran commanders,[10] storing recipes[11] and storing data. When playing an audio feed, their eyes change color in accordance with speaker.[12][13]
In the past, adjutants were cybernetic, possessing organic components. In contrast, modern adjutants are synthetic.[14]
Known Adjutants
Edit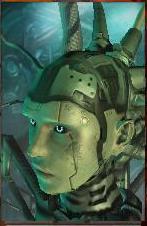 In the tutorial screen of StarCraft II: Wings of Liberty, if the player waits long enough after completing all the tutorials, the adjutant will say "I want to be the commander. I also want legs."[18]
Lemon Chicken
Edit
If a player waits long enough in the briefing of Boot Camp, an adjutant will ask the magistrate if he's all right. Eventually, the adjutant will deliver a recipe for Chinese lemon chicken, which is as follows:[11]
1 pound sliced chicken breast
1 teaspoon of corn starch
3 teaspoons of soy sauce (dark)
1 sliced lemon[11]
References
Edit