"The Alterian Rift?"
"That is impossible. Nothing could survive within such unrelenting forces."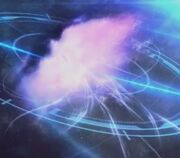 The Alterian Rift is an astral anomaly that houses Ulnar, where the xel'naga seeded the universe with life. It contains such unrelenting forces that it should shred anything that enters it into its base particles. Within it exists a pocket between universes. While within the rift, no transmissions can be sent in or out.[1]
Artanis took the Spear of Adun into the Alterian Rift at the behest of the Keystone, leading him to the Ulnar, but discovered that the Tal'darim and the Moebius Corps were already present.[1] Sarah Kerrigan and her Zerg Swarm had arrived earlier in the rift, and were engaged with hybrid.[2]
After Amon's banishment back to the Void, Kerrigan managed to send a psionic call to Artanis and Jim Raynor from the Rift, summoning their forces to Ulnar for an invasion of the Void.[3]
References
Edit
Ad blocker interference detected!
Wikia is a free-to-use site that makes money from advertising. We have a modified experience for viewers using ad blockers

Wikia is not accessible if you've made further modifications. Remove the custom ad blocker rule(s) and the page will load as expected.