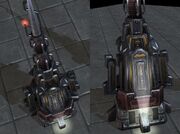 Antennas are terran devices used for communications. ITB Inc. is a known manufacturer of them.
In StarCraft II, they appear in the single player and are accessible in the Galaxy Map Editor.[1]
References
Edit
↑ 2009-12-30, Blizzplanet, Starcraft 2 Antenna Dodad. Medievaldragon, accessed on 2010-01-01
Ad blocker interference detected!
Wikia is a free-to-use site that makes money from advertising. We have a modified experience for viewers using ad blockers

Wikia is not accessible if you've made further modifications. Remove the custom ad blocker rule(s) and the page will load as expected.