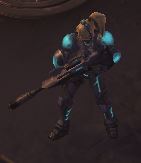 The Apollo infantry suit is a Terran Dominion hostile environment suit created for ghost agents. It is designed around a miniaturized Apollo reactor, which added its own energy output to that of the ghost who wears it. This allows for tactics incorporating both prolonged stealth and intense psionic assault.[1]
Game Effect
Edit
The Apollo infantry suit is a choice for Nova's suit slot in Nova Covert Ops after destroying the Tal'darim fleet beacon in "Trouble in Paradise."[2]
Psionic amplification suit. Adds +200 life, +1 armor, +0.25 movement speed, and +100 energy. Increases energy regeneration rate by 50%. Can cloak while wearing.
Usage
| | |
| --- | --- |
| Hotkey | C |
| Cost | 50 |
| Duration | 30 |
| Cooldown | 40 |
References
Edit
Ad blocker interference detected!
Wikia is a free-to-use site that makes money from advertising. We have a modified experience for viewers using ad blockers

Wikia is not accessible if you've made further modifications. Remove the custom ad blocker rule(s) and the page will load as expected.