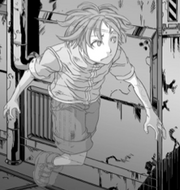 Astral projection is the name for a psionic ability in which the psychic separates their mind from their body. The mind, which appears as a differently-colored copy of the body, is free to explore their surroundings.
Colin Phash is the only known wielder of this ability to terrans. It appears to be related to his quiet voice power, which also shifts his mental energy.[1]
The xel'naga showed mastery of this ability, and could project an image of whatever form their wished even from the Void to the material universe. This image could interact and communicate with other beings. This was used by Ouros to project an image of Tassadar to Zeratul.[2]
Zeratul possesses the ability as well.[3]
References
Edit
Ad blocker interference detected!
Wikia is a free-to-use site that makes money from advertising. We have a modified experience for viewers using ad blockers

Wikia is not accessible if you've made further modifications. Remove the custom ad blocker rule(s) and the page will load as expected.