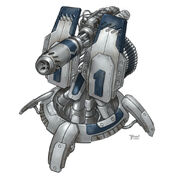 The 12mm[1] auto-turret is a terran automated defensive structure produced by the raven.
This simple robot gun emplacement is suitable for driving off smaller hostile life forms for an extended period of time.[2]
Designs for auto-defense cannon turrets were available as far back as 2499.[3] They can currently be dropped by ravens.[1]
StarCraft II
Edit
The Raven deploys an auto-turret. The turret has building-type armor and a high rate of fire. It makes for a decent defender and an even better harasser.[4]
Usage
Cost
50
Range
3
Duration
180 (240 with Durable Materials) (WoL/HotS)
10 (LotV)
As of Legacy of the Void, auto turrets were made into quick harassment tools, shortening their life but giving them much higher damage per second.
Increases the damage of auto-turrets and seeker missiles by 30%.
Removed Patch 3.8.
Wings of Liberty
Edit
Permanent auto-turrets can be viewed in the single-player campaign defending Agrian settlements and Dominion bases on Korhal. These auto-turrets do not have a timed life.[5][6]
Nova Covert Ops
Edit
Auto-turrets appear in Nova Covert Ops with their pre-LotV statline. These auto-turrets possess a unique skin and portrait. [7]
Development
Edit
The following section contains information from a previous version of StarCraft II which is no longer valid.

During early development the turret lasted until destroyed;[8] it did not have a timed life.[9]
Increases the damage of auto-turrets and seeker missiles by 30%.
Removed Patch 3.8.
Achievements
Edit
0000FF; float:left;"

colspan=2 class="infobox2title" style="background:

0000FF; color:white;"| Auto-Kill

Points

10

Criteria

Using Auto-Turrets, destroy 20 workers in a single Unranked or Ranked game.
Heroes of the Storm
Edit
In an older version of the game, auto-turrets could be purchased by heroes in Heroes of the Storm. They cost 350 gold pieces.[10]
References
Edit
↑ 1.0 1.1 Barba, Rick. StarCraft Field Manual (hardcover). Insight Editions, November 17, 2015.
↑ Hickman, Tracy (May 21, 2002). StarCraft: Speed of Darkness. Simon & Schuster (Pocket Star). ISBN 0-671-04150-9.
↑ Chat with Karune about the Screenshots StarCraft II General Discussion Forum. Accessed November 12, 2007
↑ Blizzard Entertainment. StarCraft II: Wings of Liberty. (Activision Blizzard). PC. Mission: Wings of Liberty, The Evacuation (in English). 2010-07-27.
↑ Blizzard Entertainment. StarCraft II: Wings of Liberty. (Activision Blizzard). PC. Mission: Wings of Liberty, Media Blitz (in English). 2010-07-27.
↑ Blizzard Entertainment. StarCraft II. (Activision Blizzard). PC. Mission: Nova Covert Ops, Night Terrors (in English). 2016-08-02.
↑ GearvOsh. 2008-10-14. Community Q&A (Batch 1). StarCraft II Armory. Accessed 2008-10-14.
↑ The Targeting Drone is similar to the Auto Turret in the fact that it does not have a timed life. It currently costs 50 energy to deploy and has 120 hitpoints (all subject to balance of course). The Targeting Drone can target one unit at a time, and increases the damage that unit takes by 50%. You cannot have two drones targeting the same target. These drones are also flying, stealthed, and immobile. They may excellent perimeter defenses and can be coupled with Auto Turret raids to maximize the damage. Karune. 2008-10-16. Karune : Targeting Drone. Battle.net StarCraft General Discussion Forum. Accessed 2008-10-17.
↑ 2011 Blizzard DotA Press Kit. Blizzard Entertainment, accessed on 2012-05-03