"Finally
Zenish
turned away and ignited his blades. Pure energy, drawn from Amon's realm and honed into an edge that the ancient masters said could cleave entire planets in half, darted toward
Guraj's
flesh."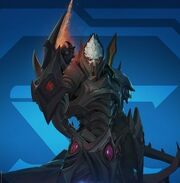 Bane blades are powerful Tal'darim melee weapons.
Bane blades are wielded by Tal'darim warriors. They draw energy from Amon's realm, and are red in color. According to Tal'darim myths, the ancient masters who wielded these blades were able to cleave entire planets in half.[1]
Much like Nerazim warp blades and Khalai psionic blades, bane blades have a variety of weapon styles, some warriors using wrist mounted blades while blood hunters were known to wield a scythe variant.[2]
Khalai protoss possessed by Amon were shown to wield red psi blades similar to that of the Tal'darim bane blades.[3] Emil Narud was able to wield a red blade of energy similar to a bane blade.[4]
References
Edit
Ad blocker interference detected!
Wikia is a free-to-use site that makes money from advertising. We have a modified experience for viewers using ad blockers

Wikia is not accessible if you've made further modifications. Remove the custom ad blocker rule(s) and the page will load as expected.