Baneling Cocoon
Unit
Race
Role

Pupal zerg form

Production

Minerals

25

Gas

25

Control

1

Build time

14

Evolves from
Requires

Hotkey

E

Protection
Hit points

50

Armor

1

Function
Evolves to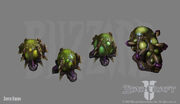 The baneling egg is a zerg pupal form set to appear in StarCraft II, being the transition unit between zerglings and banelings. A baneling egg uses a different model than standard zerg egg, and glows green until hatching.
Banelings are created from zerglings following a brief chrysalis phase. The appearance of the baneling egg is an immobile baneling, which gains movement after the mutation completes.
Ad blocker interference detected!
Wikia is a free-to-use site that makes money from advertising. We have a modified experience for viewers using ad blockers

Wikia is not accessible if you've made further modifications. Remove the custom ad blocker rule(s) and the page will load as expected.