Hellbat
Talk

0
4,991pages on
this wiki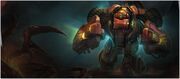 The hellbat, formerly called the battle hellion,[1] is a transforming terran vehicle based on the hellion.
By the second phase of the Second Great War, the Terran Dominion developed a special robotic upgrade for the hellion. The battle mode's heat shielding expands and reforms to protect both the robot and the driver.[2]
Game Unit
Edit
Hellbat
Unit
Race
Armament

Napalm Spray

Properties
Transport
size

4

Production

Minerals

100

Supply

2

Build time

30

Produced from
Upgrades from
Requires
Movement

Speed

2.25

Protection
Hit points

135

Armor

0

Type
Armor type
Napalm Spray
Damage

18 (+12 vs light) (splash radius 45)[3]

Targets

Cooldown

2

Range

2

Upgrade/level

+2

Function
Upgrades to
The hellbat is produced directly from the factory with an armory requirement. The factory can also produce the hellion directly.
In comparison to the hellion, the hellbat's attack has a shorter, but stronger and wider flame. It is slower than its counterpart, but also tougher.
The hellbat is an effective counter unit to massed (charging) zealots.[4]
Transformation Servos
Researched at
Hotkey

T

Properties
Notes

Allows the hellion and hellbat to transform between modes freely.

Edit
Abilities
Edit
Hellion Mode (E): With the Transformation Servos upgrade, a hellbat can transform into a hellion. The transformation takes 4 seconds.
Quotations
Edit
Development
Edit
References
Edit