This article concerns StarCraft II gameplay. You may be looking for:
Battlecruiser
Unit
Race
Affiliation

Terran Dominion
Raynor's Raiders
Mira's Marauders
Moebius Corps
Defenders of Man

Role

Powerful warship

Armament

ATA laser batteries
ATS laser batteries

Protection
Properties
Sight range

12

Production

Minerals

400

Gas

300

Supply

6

Build time

64
110 (WoL campaign)

Produced from
Requires

Hotkey

B

Movement

Speed

2.62
1.4062 (WoL Campaign)

Acceleration

1

Lateral
acceleration

0

Deceleration

0

Collision radius

1.25

Protection
Hit points

550
450 (HotS & LotV Campaigns)

Armor

3

Type
Armor type
ATS laser batteries
Damage

8

Targets

Cooldown

0.16

Range

6

Upgrade/level

+1

ATA laser batteries
Damage

6

Targets

Cooldown

0.16

Range

6

Upgrade/levels

+1

Meta
Target
priority

20

Kill score

2400

Production
score

1200
The battlecruiser is the toughest terran aerial unit.
The battlecruiser fires multiple relatively low damage shots, with the anti-ground attack being more powerful than the anti-air attack. This makes the unit better able to handle groups of weaker, low armor, units. In turn, the battlecruiser's high armor makes it less susceptible to weak attacks. This makes them good against marines, hydralisks, mutalisks, and sentries. However, they are weaker against vikings, corruptors, and void rays.
The Yamato cannon out ranges defensive structures and may be used to clear out defenses. It may also be used to soften up tougher units or thin enemy ranks quickly. This is especially useful in numbers against void rays, potentially eliminating several before they can charge up.
The tactical jump allows it to travel great distances quickly, either to attack unprotected areas, support other units in remote locations or to retreat, allowing them to be saved only to be repaired and resended to combat
Game UnitEdit
AbilitiesEdit
Wings of LibertyEdit
Wings of Liberty Campaign
Edit
Battlecruisers are unlocked by playing the "Maw of the Void" mission, available after Crown Prince Valerian Mengsk gave them to Raynor's Raiders in order to accomplish the mission.[2]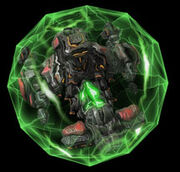 Grants the battlecruiser the Missile Pods ability. Missile Pods deals 40 splash damage (+50 damage to light units) to air units over an area of effect.
Laser batteries are fearsome weapons across wide stretches of space, but they leave a battlecruiser vulnerable to small interceptors. The ATVX Missile Pod can show up this weakness by instantly bombarding an area with a massive barrage of anti-air missiles.
Usage
| | |
| --- | --- |
| Hotkey | E |
| Cost | 125 |
The battlecruiser produces a shield which absorbs 200 damage. The ability is not smartcast.
The defensive matrix is a temporary deflection field that helped save countless assets from a premature death during the original Brood War. Now the minds at LarsCorp have adapted this technolgoical marvel to protect the massive hull of the Minotaur-class battlecruiser.
Usage
| | |
| --- | --- |
| Hotkey | D |
| Cost | 100 |
| Duration | 20 |
| Cooldown | 20 |
Attack upgrades improve attack cooldown of affected units by 5% per level.[3]

These self-replicating ultra capacitors reduce the reload time of weapons and systems. Now each of the weapon upgrades at the armory and engineering bay increases attack speed by 5% in addition to increasing damage.

Armor upgrades increase health of affected units by 5% per level.[3]

We have created a new lightweight alloy called vanadium. Vanadium diffuses weapon impacts much more efficiently than traditional armor plating, and it better preserves the life of our units. Now each of the armor upgrades in the armory and engineering bay increases unit life by 5% in addition to increasing armor.
Damaged mechanical units recover hit points when out of combat, at a rate of 0.6015 each second.[4]

Our ship and vehicle hulls are now made from a material called Regenerative Bio-Steel. This material uses internal nanobots to slowly repair any damage the hull sustains. While this regeneration process is much slower than conventional SCV repairs, it can be the difference between life and death if no SCVs are available.

Increase starting energy of all units by 100. Increase maximum energy of all units by 100.[4]

This reactor has a larger energy reserve on startup and can hold a much larger charge. Now our specialist units can use their abilities the moment they hit the battlefield, and they can store more energy when idle for long periods of time. All "Specialists units" use energy: such as the medic, ghost, spectre, thor, wraith, banshee, raven, science vessel and battlecruiser.
Co-op MissionsEdit
Battlecruisers are exclusive to Jim Raynor once he reaches Level 6.
Upgrades and AbilitiesEdit
Nova Covert Ops
Edit
Battlecruisers are available for use by Nova starting mission "Dark Skies." They possess the yamato cannon and tactical jump abilities.[5]
Upgrades and Abilities
Edit
Development
Edit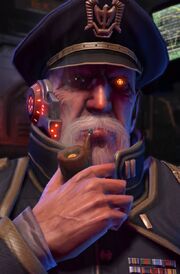 Achievements
Edit
Points

10

Criteria

Destroy 20 units with Yamato blasts in a single Unranked or Ranked game.
Quotations
Edit
The quotes and voice can be compared to Captain Henry Gloval of Robotech.
In StarCraft II: Wings of Liberty, battlecruisers appear as level 3 mini-bosses in the Lost Viking arcade game.[6]
References
Edit