"
Safariland
is proud to present Bengalaas!, the most technologically advanced animal environment ever created."
- Bengalaas Exhibit advertisment(src)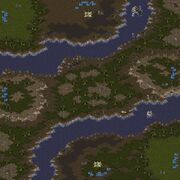 The Bengalaas Exhibit was developed over three years by landscape engineers and technical engineers employed by Safariland. The result was a habitat being designed that faithfully mimics the actual conditions on Aiur, the homeworld of the bengalaas. Several different species of plants native to Aiur were imported to make the bengalaas feel even more at home. Two visitor platforms, protected by specially designed moats, have been erected as close as possible to the cats for the best in viewing and holophotography. Exclusive merchandise is also available at the Bengalaas, Wow! gift shop.
The Bengalaas Exhibit is featured on the multiplayer map "Pridelands".
References
Edit
2000-08-04, Pridelands. StarCraft Compendium Map Archives. Accessed on 2007-11-20
Ad blocker interference detected!
Wikia is a free-to-use site that makes money from advertising. We have a modified experience for viewers using ad blockers

Wikia is not accessible if you've made further modifications. Remove the custom ad blocker rule(s) and the page will load as expected.