Blackhammer
Unit
Race
Affiliation
Campaign
Base unit
Armament
Protection
Properties
Maximum energy

200 (init. 50)

Protection
Hit points

500

Armor

1

Type
Armor type
Blackhammer
Damage

35

Attacks

2

Targets

Cooldown

1.93

Range

7

Javelin missiles
Damage

8 (+20 vs light)

Attacks

4

Targets

Cooldown

3

Range

10

Punisher Cannons
Damage

30

Targets

Cooldown

2

Range

10

Miscellaneous
Notes

The Javelin missiles have a 0.5 splash damage radius.
The Blackhammer is a powerful type of thor variant.
A number of blackhammers fought in defense of the Korhal Palace during the Swarm invasion of Korhal during the Second Great War.[1]
Moebius Corps deployed a Blackhammer to assault Sky Shield[2] and used one to defend Revanscar.[3]
Game Unit
Edit
Increases the armor of terran vehicles
Acquisition
| | |
| --- | --- |
| Purchased from | Armory |
| Hotkey | V |
Level 1
Level 2
Level 3
Increases the attack damage of terran vehicles.
Acquisition
| | |
| --- | --- |
| Purchased from | Armory |
| Hotkey | E |
Level 1
Level 2
Level 3
Heroes of the Storm
Edit
The Blackhammer model is used in place of the Odin in Heroes of the Storm for Tychus Findlay's Calldown Odin ability.[4]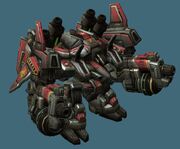 A new version of the thor, named the "Super Thor", appears instead of the standard version in the Collector's Edition of StarCraft II: Wings of Liberty. It is identical in terms of gameplay. The Collector's Edition also offers a mini-thor pet for World of Warcraft that is capable of flight.[5] The "Super Thor" was reused in Heart of the Swarm for the Blackhammer.
References
Edit