The following section contains information from Heroes of the Storm and is not canon to StarCraft continuity
Heroes of the Storm[1] (formerly titled Blizzard DotA, and Blizzard All-Stars)[2] is a hero brawler.[3] It is free-to-play[4] and the game was released digitally.[5] Formerly a mod for StarCraft II, it has since become an independent product.[6]
The game launched June 2nd, 2015.
Overview
"In a tiny, trans-dimensional pocket universe sit two dark and terrible gods. One red. One blue. To amuse themselves, they kidnap great heroes from across time and space! And those heroes come from one company:
BLIZZARD
! These heroes are forced to fight to the death in an endless battle with no purpose... other than ladder points.
This is Blizzard DOTA! Coming soon(ish)™. Seriously!"
- Original mod summary(src)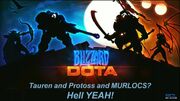 Heroes of the Storm made its first appearance at BlizzCon 2010. The idea at the time was to used it as a showcase for the abilities of the Galaxy Map Editor,[7] as with Wings of Liberty having just shipped, Blizzard would have nothing new to show on the StarCraft front of the event.[8] In this build, heroes could use currency earned in battle to purchase upgrades in shops. They then fought alongside allied creeps for maximum efficiency and crush enemy towers and their bases.[9] Two factions existed in the game—the Guardium and the Scourge. Each hero had a "good" (Guardium) and "evil" (Scourge) version.[9] The evil incarnation usually wore some zerg armor.[10]
As of July, 2011, the game had entered playtesting.[11] By August of the same year, the game has undergone a complete reboot, the original version "flattened." According to Frank Pearce, the original version bore too much resemblance to its Warcraft III counterpart, where novice players were at a disadvantage. Blizzard seeks to redesign the game to make it "easy to learn, difficult to master.[12] After another positive showing at BlizzCon 2011, the game had more passion inside Blizzard, and they began to discuss what they could do with the MOBA (or "hero brawler" as it was called internally) genre. It was decided to make the game easy to get into with a focus on team gameplay.[7]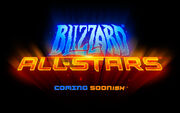 The game was originally expected to launch concurrently with Heart of the Swarm but has since been delayed, and will be released separately.[5]
During development, a number of employees who had worked on Blizzard's Project Titan were shifted to work on All-Stars. As of August 2013, the game's development has reached "a significant internal milestone," and has entered wider internal playtesting. Blizzard will have more information on the game later in the year.[13]
Blizzard DotA (as it was originally called) was the subject of some controversy, in light of Valve's Dota 2. Blizzard has taken steps to prevent any trademarking of "DotA" or any other acronymn of "Defense of the Ancients," maintaining that it should remain with the Warcraft modding community, from which the concept sprung.[14] In May of 2012, both Valve and Blizzard reached an agreement—Valve would be able to use the term "DotA" commercially while Blizzard could use it in a non-commercial sense. The name of the Blizzard version was changed to "Blizzard All-Stars," which Rob Pardo stated "ultimately better reflects the design of our game."[2] It was later changed to "Heroes of the Storm."[15]
StarCraft Elements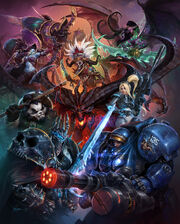 The following StarCraft elements exist in the game:
Heroes
The following StarCraft heroes are/will be playable:
Proposed & Data-only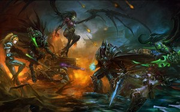 The following StarCraft heroes have been proposed for the game or data exists for the following StarCraft heroes in the game:
Units and Structures
Other
Removed
The following StarCraft elements were present in early builds but have since been removed/altered:
Heroes

Structures
Units
References
External Links