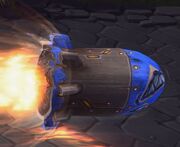 Blunt force gun (or BFG) is a terran weapon developed for advanced siege tanks. It fires a massive shell that can continue moving through enemies, hitting multiple targets in a line. This shell can continue its momentum for long periods of time.[1]
Heroes of the Storm
Edit
The blunt force gun is a level 10 ability option for Sgt. Hammer in Heroes of the Storm.[1]
The face drawn on the shell of the gun is likely a reference to the symbol of Wowhead, a goblin rocket from the Warcraft series.
References
Edit
Ad blocker interference detected!
Wikia is a free-to-use site that makes money from advertising. We have a modified experience for viewers using ad blockers

Wikia is not accessible if you've made further modifications. Remove the custom ad blocker rule(s) and the page will load as expected.