This following section contains information from concept art that may not be canonical.

This article or section contains information about StarCraft: Ghost, which has been declared non-canon. Elements may be taken as 'flavor lore' however.
The content may be significantly out of date. Please do not add speculation to this article, and remember to cite a published source for details.
The title of this article is based on concept art.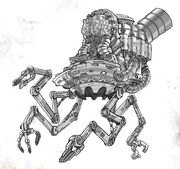 The brain spectre is a mysterious zerg overlord outfitted with terran cyber-technology.
To date, it has only appeared in StarCraft: Ghost screenshots and concept art.
Brain spectres have a similar name to the spectres. Their connection with spectres, if any, is unknown. They may be used to control spectres, similar to overlords, or take control of other zerg.
References
Edit
Ad blocker interference detected!
Wikia is a free-to-use site that makes money from advertising. We have a modified experience for viewers using ad blockers

Wikia is not accessible if you've made further modifications. Remove the custom ad blocker rule(s) and the page will load as expected.