Brian "Zeus"[1] Sousa is a 3D artist for Blizzard Entertainment. He worked on StarCraft[2] and later as the senior 3D artist for StarCraft II. For the latter helped work on the effects of light and weather in the game.[3] He is currently the lead 3D artist for StarCraft: Remastered.[4]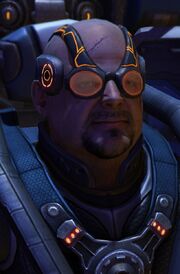 The goliath's profile in StarCraft II is based on his appearance.[5]
References
Edit
Ad blocker interference detected!
Wikia is a free-to-use site that makes money from advertising. We have a modified experience for viewers using ad blockers

Wikia is not accessible if you've made further modifications. Remove the custom ad blocker rule(s) and the page will load as expected.