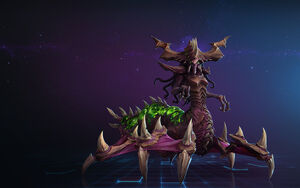 Broodmothers are powerful, intelligent queens,[1] without the severe limits to mental abilities possessed by the lesser queens.[2] They were tasked by the Queen of Blades to guard and lead various zerg broods.[3]
History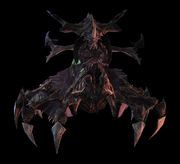 Following the Brood War, the Queen of Blades removed the cerebrates from the Swarm;[4] they were tainted by the ties to the Overmind[3] and would inevitably try to create a new one if there wasn't one in existence.[5] To replace them, Kerrigan created the intelligent broodmothers to fill a role similar to the old cerebrates.[3] She was trying to ensure the Swarm could function even if she herself died, a change from her attitude during the Brood War.[5] They were in use by 2501.[6]
The broodmother template allowed complex problem solving, learning, the ability to command broods and multiple focuses. However, extraneous brain matter was deemed unnecessary for their role in Swarm. This was partly because extra matter required extra energy, but it also led to increased independence, which contradicted the imperative that the zerg must not present a danger to the leader of the Swarm.[7][8] The broodmothers were told by Kerrigan to be strong, to fight, to conquer, and that the zerg led by force of will.[9]
The individuals of the new breed were more independent, stronger, and more evolved than the cerebrates, able to survive without their creator and fragmentation of the Swarm.[10] In the event of the Queen's fall, the broodmothers would war with each other until the strongest of them would come to rule the Swarm.[5]
The broodmothers were imprinted with overriding directives that made them pursue evolution and respect strength;[11] this ensured loyalty to Kerrigan, who was the strongest,[3] while allowing the broodmothers to have their own personalities, act independently, and pursue their own ambitions.[11] Kerrigan felt the zerg were always stronger when they had to strive against something, forcing them to adapt.[5]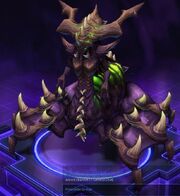 The independence of the broodmothers was also a notable fault.[10] When Kerrigan demonstrated weakness by being defeated and deinfested at Char, she lost the allegiance of the broodmothers.[3] However, as no brood mother had the psionic capacity to control the entire Swarm, the Swarm fragmented as each broodmother took their own brood and dispersed into the Koprulu Sector.[12] Infighting resulted as broodmothers vied for control over the Swarm.[11]
The broodmothers opposed Kerrigan's attempt to regain control of the Swarm. Kerrigan was forced to track down the broodmothers and prove herself to regain their loyalty.[3]
During Kerrigan's search for Jim Raynor, the broodmothers disliked working with terrans and requested permission to destroy the Hyperion once those aboard were no longer useful. At Kerrigan's command, Izsha told them that Colonel Orlan, Crown Prince Valerian Mengsk and Raynor's Raiders were not to be harmed.[13][14]
Known Broodmothers

Notes
An early concept of the baneling nest used a fat immobile "baneling brood mother" as part of the structure.[15] Aside from the name, there is no known relationship between the concept and the current brood mother.
References