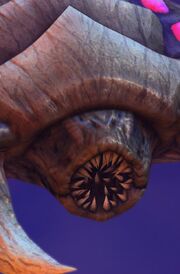 A broodling is a short-lived zerg creature spawned from queens and later, brood lords.
Broodlings are small but vicious and upon hatching, will attack any nearby enemies,[1] attacking them until either they or the broodlings are destroyed.[2] In the event that there are no nearby enemies, they await commands from a higher strain. Their effectiveness is primarily compromised, however, by their very limited lifespans.[3]

Broodlings were originally grown from globs of spores launched from queens. These spores attempted to 'fertilize' any organic matter they came into contact with and were capable of eating through even the armored hulls of vehicles to reach the occupants within.[1] If these spores made contact with an organic being, they forced the organism to metabolize, serving as the breeding ground for a near instantaneous metabolization and birth of a pair of broodlings.[3] The explosive birth was fatal to the host.[1]
The newest generation of broodlings are spawned from the brood lord. They are grown in sacs attached to the creature's body, which are capable of rapidly spawning large batches of broodlings. Used as living ammunition, the brood lord supercharges the broodlings' aggression and metabolism in combat, turning them into short-lived, but very effective air-to-ground weapons, capable of tearing through personal armor and vehicular plating with ease. The broodlings themselves also regulate some of the brood lord's biological functions.[4]
These broodlings also emerge from destroyed zerg structures.[5] After her de-infestation, Sarah Kerrigan could spawn broodlings by tapping into her zerg abilities.[6]
Game Unit
Edit
StarCraft
Edit
For StarCraft gameplay information see: Broodling (StarCraft).
StarCraft II
Edit
For StarCraft II gameplay information see: Broodling (StarCraft II).
Heroes of the Storm
Edit
In Heroes of the Storm, Zagara can choose to amplify an ability to spawn broodlings.[7]
Broodling Types
Edit
References
Edit
Ad blocker interference detected!
Wikia is a free-to-use site that makes money from advertising. We have a modified experience for viewers using ad blockers

Wikia is not accessible if you've made further modifications. Remove the custom ad blocker rule(s) and the page will load as expected.