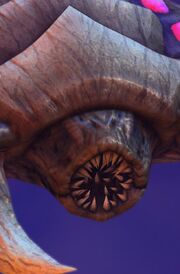 A broodling is a short-lived zerg creature spawned from queens and later, brood lords.
Broodlings are small but vicious and upon hatching, will attack any nearby enemies,[1] attacking them until either they or the broodlings are destroyed.[2] In the event that there are no nearby enemies, they await commands from a higher strain. Their effectiveness is primarily compromised, however, by their very limited lifespans.[3]

Broodlings were originally grown from globs of spores launched from queens. These spores attempted to 'fertilize' any organic matter they came into contact with and were capable of eating through even the armored hulls of vehicles to reach the occupants within.[1] If these spores made contact with an organic being, they forced the organism to metabolize, serving as the breeding ground for a near instantaneous metabolization and birth of a pair of broodlings.[3] The explosive birth was fatal to the host.[1]
The newest generation of broodlings are spawned from the brood lord. They are grown in sacs attached to the creature's body, which are capable of rapidly spawning large batches of broodlings. Used as living ammunition, the brood lord supercharges the broodlings' aggression and metabolism in combat, turning them into short-lived, but very effective air-to-ground weapons, capable of tearing through personal armor and vehicular plating with ease. The broodlings themselves also regulate some of the brood lord's biological functions.[4]
These broodlings also emerge from destroyed zerg structures.[5] After her de-infestation, Sarah Kerrigan could spawn broodlings by tapping into her zerg abilities.[6]
Game Unit
Edit
StarCraft
Edit
Broodling
Unit
Race
Role

Infestation Ground Unit

Armament

Toxic spores

Properties
Life span

180 seconds

Size

Small

Sight range

5

Production
Produced from

Victim of Queen's Spawn Broodling ability

Hotkey

B

Movement

Speed

6.04

Protection
Hit points

30

Armor

0

Combat
Ground attack

4

Cooldown

15

Attack range

1
Two broodlings are created using a queen's Spawn Broodling ability and last a maximum of 180 seconds. Broodlings can wreak havoc in a siege tank artillery line. The initial spawning destroys one tank, while the other closely packed tanks damage each other via splash damage as they fire on the broodlings.
It is even possible to spawn broodlings from a broodling.
"Permanent" Broodling
Edit
In Dark Origin, slaying all the ursadons creates a broodling from one of their stomachs that does not have a 'countdown' life span. Aside from that it behaves like any other broodling and may be mind-controlled by a dark archon.[7]
StarCraft II
Edit
Broodling
Unit
Race
Role

Fast melee creature

Armament

Claws

Properties
Life span

8

Sight range

7

Production
Control

0

Produced from

Movement

Speed

3.836

Acceleration

0

Lateral
acceleration

0

Deceleration

0

Creep


multiplier

x1 (no effect)

Collision radius

0.375

Protection
Hit points

30

Hit point
regen/second

0.2734

Armor

0

Type
Armor type

Light

Claws
Damage

4

Targets

Cooldown

0.6455

Range

0.1 (melee)

Upgrade/level

+1

Meta
Target
priority

20

Kill score

0

Production
score

0
The broodling is a StarCraft II unit.
Broodlings are created from brood lord attacks.
Broodlings are created when some zerg structures are destroyed.
In Heart of the Swarm, when Kerrigan reaches a certain level, her attacks can spawn broodlings if the infected target is killed quickly enough.
Development
Edit
The broodling used to be known as the mantaling.[8]
Heroes of the Storm
Edit
In Heroes of the Storm, Zagara can choose to amplify an ability to spawn broodlings.[9]
Broodling Types
Edit
References
Edit