Broodmother
Talk

3
5,315pages on
this wiki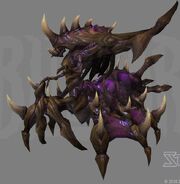 Broodmothers are powerful, intelligent queens,[1] without the severe limits to mental abilities possessed by the lesser queens.[2] They were tasked by the Queen of Blades to guard and lead various zerg broods.[3]
History
Following the Brood War, the Queen of Blades removed the cerebrates from the Swarm;[4] they were tainted by the ties to the Overmind[3] and would inevitably try to create a new one if there wasn't one in existence.[5]
Shortly before being deinfested early in the Second Great War, Kerrigan created the intelligent broodmothers to fill a role similar to the old cerebrates.[3] She was trying to ensure the Swarm could function even if she herself died, a change from her attitude during the Brood War.[5]
The individuals of the new breed were more independent, stronger, and more evolved than the cerebrates, able to survive without their creator and fragmentation of the Swarm.[6] In the event of the Queen's fall, the broodmothers would war with each other until the strongest of them would come to rule the Swarm.[5]
The broodmothers were imprinted with overriding directives that made them pursue evolution and respect strength;[7] this ensured loyalty to Kerrigan, who was the strongest,[3] while allowing the broodmothers to have their own personalities, act independently, and pursue their own ambitions.[7] Kerrigan felt the zerg were always stronger when they had to strive against something, forcing them to adapt.[5]
The independence of the broodmothers was also a notable fault.[6] When Kerrigan demonstrated weakness by being defeated and deinfested at Char, she lost the allegiance of the broodmothers.[3] However, as no brood mother had the psionic capacity to control the entire Swarm, the Swarm fragmented as each broodmother took their own brood and dispersed into the Koprulu Sector.[8] Infighting resulted as broodmothers vied for control over the Swarm.[7]
The broodmothers opposed Kerrigan's attempt to regain control of the Swarm. Kerrigan was forced to track down the broodmothers and prove herself to regain their loyalty.[3]
Known Broodmothers

Notes
An early concept of the baneling nest used a fat immobile "baneling brood mother" as part of the structure.[9] Aside from the name, there is no known relationship between the concept and the current brood mother.
References
↑ Blizzard Entertainment. 2012-11-26. StarCraft II Creative Development Q&A - Part 6. Blizzard Entertainment. Accessed 2012-11-26.
↑ 3.0 3.1 3.2 3.3 3.4 3.5 StarCraft Legacy staff. 2011-05-30. May 2011 HoTS Gameplay Info. StarCraft Legacy. Accessed 2011-05-31.
↑ Metzen, Chris; Chambers, Andy; StarCraft Legacy staff. 2009-04-03. BlizzCon 2007 StarCraft Lore Panel Editorial. StarCraft Legacy. Accessed 2009-05-18.
↑ 5.0 5.1 5.2 5.3 Blizzard Entertainment. 2012-12-03. StarCraft II Creative Development Q&A - Part 7. Blizzard Entertainment. Accessed 2012-12-03.
↑ 6.0 6.1 2011-05-31, May 2011 HoTS Fansite Interview. StarCraft Legacy, accessed on 2011-05-31
↑ 7.0 7.1 7.2 2011-10-22, BlizzCon 2011 - Starcraft 2: Heart of the Swarm - Campaign and Lore Panel (Full). YouTube, accessed on 2011-11-07
↑ 2011-05-31, Starcraft II: Heart of the Swarm Hands-On Preview - Zerg Campaign. Gamespot, accessed on 2011-07-08
↑ 2011, SC2: Zerg Baneling Nest. Deviantart, accessed on 2011-07-01