Brutalisk
Talk

7
5,495pages on
this wiki
Brutalisk
Unit
Race
Affiliation

Zerg Swarm

Armament
Movement

Speed

2

Protection
Hit points

750 (Devil's Playground), 1500 (other)

Armor

2

Type
Armor type
Brutalize
Damage

50

Attacks

2

Targets

Cooldown

3

Range

1

Ferocious Spew
Damage

44

Targets

Cooldown

0.75

Range

6
The brutalisk is a large zerg creature, larger than an ultralisk, which resembles a cross between a zergling and a hydralisk.
During the invasion of terran space in 2504, one was present on Redstone III,[1] and another on Tyrador VIII.[2] The Terran Dominion captured a number of brutalisks—one was held at a bio-weapons lab orbiting Castanar[3] while another two were at Skygeirr Station.[4]
Game Unit
Edit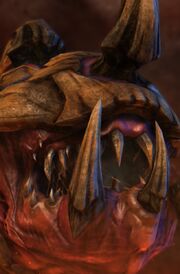 While powerful, brutalisks have a very slow movement rate. Fast-moving units easily dominate brutalisks by utilizing hit and run tactics. Alternately, powerful weapons such as siege tanks and battlecruisers make short work of brutalisks from afar. Every time they appear, brutalisks are optional research objectives that yield three points of zerg research in the Wings of Liberty campaign, and levels for Kerrigan in the Heart of the Swarm campaign.
Special Brutalisk Strains
Edit
References
Edit