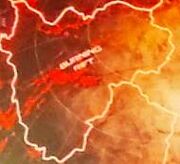 The Burning Rift is a landform located on the planet Char, situated in its northern polar region. It is bordered due west of Death Valley, north of the Glass Flats, and east of the Acid Marsh.[1]
The rift served as a multiplayer map in StarCraft II,[3] but was not present at final release.
It appears as a contestable territory in RISK: StarCraft.[1]
References
Edit
Ad blocker interference detected!
Wikia is a free-to-use site that makes money from advertising. We have a modified experience for viewers using ad blockers

Wikia is not accessible if you've made further modifications. Remove the custom ad blocker rule(s) and the page will load as expected.