Ad blocker interference detected!
Wikia is a free-to-use site that makes money from advertising. We have a modified experience for viewers using ad blockers

Wikia is not accessible if you've made further modifications. Remove the custom ad blocker rule(s) and the page will load as expected.
You may be looking for:
"Say hello to my little friend."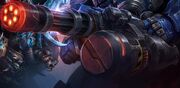 A chain gun is a terran gatling gun[1] available for individual use (or at least individuals wearing CMC armor).[2][3]
"When in doubt, empty your magazine."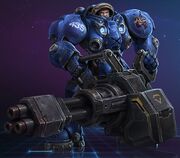 References
Edit
↑ 1.0 1.1 2010, Starcraft 2: Marine variations. Deviantart, accessed on 2011-07-20
↑ Blizzard Entertainment. StarCraft II: Wings of Liberty. (Activision Blizzard). PC. Mission: Wings of Liberty, Engine of Destruction (in English). 2010-07-27.
↑ Blizzard Entertainment. StarCraft II: Wings of Liberty. (Activision Blizzard). PC. Mission: Wings of Liberty, Belly of the Beast (in English). 2010-07-27.
↑ StarCraft Legacy. Note that "Alpha" is a typo. Accessed on 2007-12-06
↑ Underwood, Peter, Bill Roper, Chris Metzen and Jeffrey Vaughn. StarCraft (Manual). Irvine, Calif.: Blizzard Entertainment, 1998.
↑ Pressure Suit. Accessed on 2008-01-28