"Ahead of us... within the Chamber of Ascension, the
xel'naga
have slumbered as civilizations grew, fell, and formed again."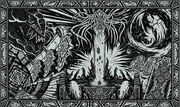 The Chamber of Ascension was located within Ulnar.
The xel'naga slumbered within as they waited for two races with purity of form and essence to awaken them.[1]
During the End War, Hierarch Artanis and Sarah Kerrigan entered to find the xel'naga dead within.[2]
References
Edit
Ad blocker interference detected!
Wikia is a free-to-use site that makes money from advertising. We have a modified experience for viewers using ad blockers

Wikia is not accessible if you've made further modifications. Remove the custom ad blocker rule(s) and the page will load as expected.