Chris Metzen
Talk

0
5,370pages on
this wiki
You may be looking for:
Chris "Thundergod" Metzen
Biographical
Born

1974

Physical
Race
Gender

Male

Political
Affiliation

Blizzard Entertainment

Occupation

Vice president of creative development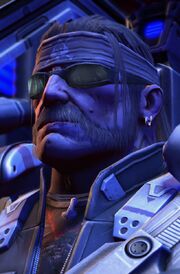 Christopher Vincent "Thundergod" Metzen is Blizzard Entertainment's vice president of creative direction. He is responsible for most of the storylines and lore (through instruction manuals, etc.) found in the Warcraft, Diablo and StarCraft series of games as well as concept art and character design. His position in creative development has given him the reins over lore and storylines created for the games of the Blizzard franchise, the foundations of which were laid by previous designers. Metzen also supervises the lore created for the pen & paper rpg, mangas, and novels of Blizzard's universes. He has voiced numerous characters in the Warcraft and StarCraft games.
Although taking on a mainly supervising role, Metzen has developed concept art of his own. He describes his style as "a comic-type approach to fantasy and sci-fi" and cites Walt Simonson, Jim Lee, Alex Ross, Larry Elmore, and Keith Parkinson among his inspirations in character design. He also admits his preference for designing heroes and villains over doing monster and mechanical design.[1]
He voices the battlecruiser, ghost, and marine in StarCraft I and Brood War.[2]
Works of Fiction
Edit
Metzen has also taken upon the role of author/co-author of works in the Warcraft universe and is the author of the StarCraft short story StarCraft: Revelations.
He authored a Jim Raynor story for StarCraft: Frontline: Volume 4 called Homecoming.[3]
Other Work
Edit
Metzen does work outside of Blizzard Entertainment as well, such as a comic book about a second American civil war in the near future.[4] He worked on the Transformers: Autocracy series, a 12-issue 8-page miniseries by IDW publishing, available online only via browser, iPad and iPhone.[5]
References
Edit