Corruptor
Talk

11
5,370pages on
this wiki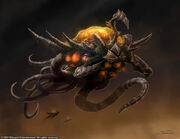 The corruptor is a squid-like zerg flying unit.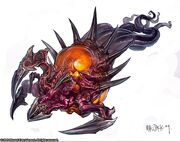 Designed solely for use against aerial targets, corruptors are used against capital ships[1] and are deeply feared by both terrans and protoss. Fortunately for the Swarm's enemies, these giant brain-like creatures, with their snapping beaks and dangling tentacles, are usually found near only the most advanced hive clusters. The corruptor is a genetic marvel that can cover targets in acid, causing them to take additional damage from attacks.[2]
The corruptor's genetic template was lost during the Second Great War when the Swarm fragmented after the Battle of Char. The brood lord, an evolution of the corruptor, was nearly lost with it; when the brood lord's template was recovered it was rebased on the mutalisk.[3]
Game Unit
Edit
Corruptor
Unit
Race
Role

Heavy Assault Flyer

Armament

Parasite Spores

Properties
Sight range

10

Production

Minerals

150

Gas

100

Control

2

Build time

40

Evolves from
Requires

Hotkey

C

Movement

Speed

2.9531

Acceleration

2.625

Lateral
acceleration

0

Deceleration

0

Collision radius

0.625

Protection
Hit points

200

Hit point
regen/second

0.2734

Armor

2

Type
Armor type
Parasite Spores
Damage

14 (+6 vs massive)

Targets

Cooldown

1.9

Range

6

Upgrade/level

+1/+2 vs massive

Function
Evolves to
Meta
Target
priority

20

Kill score

0

Production
score

0
The corruptor attacks air units and aerial structures, including units lifted by Anti-Gravity and even colossi. Corruptors are strong against battlecruisers, phoenixes, and mutalisks, but are weak against vikings and void rays. Corruption isn't used in the campaign.
Abilities
Edit

Corruption
Usage
Duration

30

Cooldown

45

Hotkey

C
Notes
The corruptor covers a single unit in slime. For the duration, that unit suffers an extra 20% damage.


When researched, the ability starts within cooldown (so the ability cannot immediately be used). Cannot be used in the campaign.
Edit
Flyer Carapace

Evolved at
Properties

| | | | |
| --- | --- | --- | --- |
| Level | Level 1 | Level 2 | Level 3 |
| Minerals | 150 | 225 | 300 |
| Gas | 150 | 225 | 300 |
| Evolution time | 160 | 190 | 220 |
| Required | | | |

Notes

+1 bonus to armor per level for zerg air units.

Edit
Strategies
Edit
Corruptors have a weak attack but high health. They may outlast low armor and low damage unit like the mutalisk and phoenix. They are also effective against massive air units and colossi due to bonus damage and Corruption.
Corruptors should avoid void rays which have fully-charged attacks or have activated Prismatic Alignment, since void rays deal extra damage to armored units. Vikings should also be avoided for the same reason.
Heart of the Swarm Campaign
Edit
The corruptor is not in the zerg tech tree in the StarCraft II: Heart of the Swarm campaign. The brood lord, in competition with the viper, may become a mutalisk evolution following the Mutalisk Evolution mission.[3]
Development
Edit
References
Edit