"Whaddya mean there aren't any cows in
Koprulu
? Where'd this come from then?"
- Daxxari linking milk with cows.(src)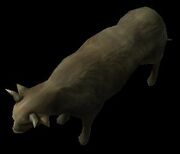 Cows are a species of bovine native to Earth. Domesticated by humans, they were imported to the Koprulu Sector and remained as domesticated animals, providing products such as milk.[1][2]
Game Unit
Edit
Cows are found on some terran planets in StarCraft II: Wings of Liberty, such as Mar Sara. They cannot be selected.[3]
"Space cow" and "space bull" data appears in Heart of the Swarm beta files.[4]
Cows appear in other Blizzard games. In the Diablo series, they have been used in jokes and Easter eggs.
References
Edit
Ad blocker interference detected!
Wikia is a free-to-use site that makes money from advertising. We have a modified experience for viewers using ad blockers

Wikia is not accessible if you've made further modifications. Remove the custom ad blocker rule(s) and the page will load as expected.