The following section contains information from a previous version of StarCraft II which is no longer valid.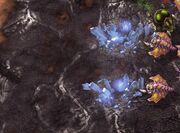 Creep was able to grow faster if a special ability was researched at the evolution chamber in March 2008.[1]
Creep used to cause damage to non-zerg buildings it came into contact with, and it might have opened up possibilities for new creep pushing strategies.[5]
Non-zerg buildings used to take 3 damage per second[6] and eventually would be destroyed.[5] However, this was removed as it caused problems in allied games.[7]
References
Edit
Ad blocker interference detected!
Wikia is a free-to-use site that makes money from advertising. We have a modified experience for viewers using ad blockers

Wikia is not accessible if you've made further modifications. Remove the custom ad blocker rule(s) and the page will load as expected.