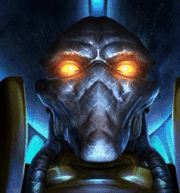 The Danimoth is a powerful protoss Arbiter. It is also the generic StarEdit heroic Arbiter.
History
The Danimoth was captured by Schezar's Scavengers and put in a stasis cell on Aiur. Protoss Praetor Mojo enlisted the help of a breakaway faction of the Terran Dominion's Alpha Squadron led by Tom Kazansky and Magellan. The terrans rescued Mojo, the Danimoth and the Warbringer from captivity.[1]
The Danimoth took part in a mission to destroy a cerebrate captured by the Scavengers, alongside Mojo's Boys and the breakaway terran faction. The mission was a success.[2]
Game Unit
Abilities
Upgrades
Trivia
In the final mission of StarCraft: Enslavers, all heroes (including the Danimoth) are expendable.[2]
References
↑ StarCraft. Vivendi Games. Mission: Enslavers bonus campaign, mission 2B: "The Rescue" (in English). 1998.