Death animations are the art of units dying. The various types have been greatly expanded in StarCraft II.
The same death animations are used for basic units in multiplayer and singleplayer, although special hero units have different death animations.[1] Typical units have 4-5 animations, often varying depending on what type of weapon killed them (e.g. burning if killed by a hellion or colossus). The pieces of the dead unit use Havok physics, causing them to move randomly and react according to the type of terrain.[2]
Some hero units, like a heroic thor,[3] and even campaign-specific doodads have death animations.[2]
When a unit dies, its team color is set to black.
Blizzard had posted some development videos on their site.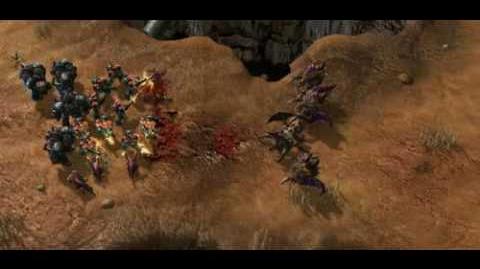 References
Edit
Ad blocker interference detected!
Wikia is a free-to-use site that makes money from advertising. We have a modified experience for viewers using ad blockers

Wikia is not accessible if you've made further modifications. Remove the custom ad blocker rule(s) and the page will load as expected.