This article describes the unit type. For information on the device, see here.
A detector is a building or unit that is able to detect and thus unmask cloaked or burrowed units. Detectors can be stationary (buildings) or mobile (units). Once a detector uncovers a cloaked unit, any friendly unit can fire on it. This capability is especially critical when faced with a ghost targeting a nuclear missile or an arbiter or mothership providing cover for a number of units. Detector units trapped in Lockdown or hit by Optical Flares will lose their ability to detect.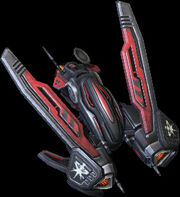 StarCraft
Edit
Detectors include:
Special Abilities
Edit
Ensnare, Maelstrom, Plague, Stasis field and Lockdown will reveal cloaked protoss and terran units caught in their areas of effect for the ability's duration. Burrowed zerg units are unaffected by these abilities except Stasis Field while burrowed, but if hit by these abilities while above ground, they will be revealed if they burrow. Irradiate reveals all cloaked units it affects and also affects burrowed zerg units. EMP Shockwave will not affect protoss cloaked units or zerg burrowed units, but terran ghosts and Wraiths will be affected and lose all their energy, causing them to immediately decloak.
Non-Buildable Detectors
Edit
These detectors can not be built/transformed/warped by any worker unit.
StarCraft II
Edit
In StarCraft II detectors can detect hallucinations.[1]
Detectors include:
Other
Abilities
Edit
The following abilities will reveal burrowed, cloaked, or hallucinated units for a short time.
Achievements
Edit
I See Dead Units
Points

10

Criteria

Destroy 10 cloaked or burrowed units in a single Melee game.
References
Edit
↑ Blizzard Entertainment. StarCraft II. (Activision Blizzard) (in English). July 27, 2010