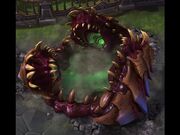 Devouring maw is a subterranean zerg organism. It rises from the ground with three mouth-like sections, closing in on its prey and consuming it. The maw then begins to crush the prey with its rows of teeth.
An enhanced version of the breed is known as the tyrant maw.[1]
Heroes of the Storm
Edit
The devouring maw appears as a level 10 ability choice for Zagara in Heroes of the Storm. At level 20 it can be upgraded into a tyrant maw.[1]
References
Edit