You may be looking for:
"Yeah yeah, good old days, robbin' trains, yadda yadda, bang bang. I'm making Diamondbacks!"
The Diamondback is a terran hover-tank.
The first diamondback prototypes were produced by the Terran Confederacy during the Great War, but never developed beyond that stage.[1] Prior to the Second Great War the Dominion used them against the zerg on Vygoire.[2]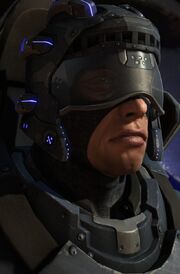 Four years later, Raynor's Raiders found abandoned diamondbacks in the hills of Tarsonis. Chief Engineer Rory Swann uploaded their schematics to their factory network. The Raiders commandeered some of them and subsequently used them to hit Terran Dominion trains there. The Diamondback's ability to fire on the move, and its high speed, made it well suited to catching the trains.[1]
Diamondbacks were also used by Mira's Marauders.[3] The Dominion also acquired diamondbacks, using them to help defend Augustgrad,[4] Skygeirr Station[5] and the Psi Destroyer[6] and storing a large number at a cell block in New Folsom Prison.[7]
Game Unit
Edit
Diamondbacks are a campaign-only unit in StarCraft II: Wings of Liberty. They are first available in Matt Horner's mission, "The Great Train Robbery". Their fire on the move ability makes them great for rearguard actions when pulling back to safer ground and they're strong enough to do good damage to just about any ground unit or structure. A few goliaths for support wouldn't be amiss as they have no anti-air capability.[1]
Diamondbacks are strong against roaches, ultralisks, siege tanks, goliaths, firebats, stalkers, and colossus. However, they are weak against zerglings, marauders, immortals, and any air units. They are also not very efficient against marines, zealots, archons, banelings, and hydralisks due to their slow attack speed.
Abilities
Edit

Fire on the Move
Notes
The Diamondback can fire its Rail Gun while moving.
Edit
Ultra Capacitors
Campaign
Cost

5 protoss research points

Researched at
Notes

Attack upgrades at the armory and engineering bay improved cooldown by 5% per level. Self-replicating ultra capacitors reduce the reload time of weapons and systems.[8]

Edit
Vanadium

Plating
Campaign
Cost

5 protoss research points

Researched at
Notes

Armor upgrades at the armory and engineering bay increase health by 5% per level. Vanadium better disperses weapon impacts than standard armor.[8]

Edit
Tri-Lithium Power Cell
Campaign
Cost

$75,000

Researched at
Notes

Diamondbacks gain +1 range.

The Tri-Lithium Power Cell has 40% more capacity and fits in the same slot as the outdated monolithium power cell. This increased power surge allows the diamondback to accurately fire at more distant targets.[9]

Edit

Shaped Hull
Campaign
Cost

$90,000

Researched at
Notes

Diamondbacks gain +50 hit points.

Bellerephon now offers a diamondback with a hull made from a single piece of shaped titanium. This newer model can absorb more punishment than the traditional diamondback because the hull has no joints or rivets that can buckle.[9]

Edit

Regenerative Bio-Steel
| | |
| --- | --- |
| Campaign | |
| Cost | 20 zerg research points |
Acquisition
Researched at
Notes
Damaged ships and vehicles recover hit points over time, at a rate of 0.6015 each second, 3 seconds after taking damage.[10]
Edit
Quotations
Edit
Diamondback is voiced by Quinton Flynn.
Development
Edit
The following section contains information from a previous version of StarCraft II which is no longer valid.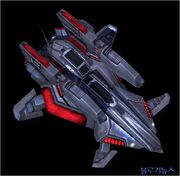 Early in the development of StarCraft II, the diamondback was known as the cobra.[11] It was in the game engine as early as 2006[12] and was armed with twin Eviscerator cannons which dealt very heavy damage against armored targets. It had the ability to target air units as well.[13]
At one point it possessed an electrical attack which slowed enemy units.[14]
The diamondback has three unused upgrades available in the StarCraft II Map Editor; Burst Capacitators, Hyperfluxor and Tungsten Spikes. The Tungsten Spikes upgrade increases the attack range by 1, probably the old name for tri lithium power cells. Hyperfluxor is a complete upgrade that increased the diamondback's attack speed by 20%.
The Burst Capacitator upgrade remains as a half-finished ability in the editor. It allows the diamondback to fire a charged up shot every five seconds (the charging process is nullified if the diamondback fires before it charges up).[15]
References
Edit
↑ 1.0 1.1 1.2 Blizzard Entertainment. StarCraft II: Wings of Liberty. (Activision Blizzard). PC. Mission: Wings of Liberty, The Great Train Robbery (in English). 2010-07-27.
↑ Irvine, Alex. ""Great One"." (April 11, 2013). Blizzard Entertainment. StarCraft Lore: Great One Accessed 2013-04-11.
↑ Blizzard Entertainment. StarCraft II: Wings of Liberty. (Activision Blizzard). PC. Mission: Wings of Liberty, Cutthroat (in English). 2010-07-27.
↑ Blizzard Entertainment. StarCraft II: Wings of Liberty. (Activision Blizzard). PC. Mission: Wings of Liberty, Media Blitz (in English). 2010-07-27.
↑ Blizzard Entertainment. StarCraft II: Heart of the Swarm. (Activision Blizzard). PC. Mission: Heart of the Swarm, Infested (in English). 2013-03-12.
↑ Blizzard Entertainment. StarCraft II: Heart of the Swarm. (Activision Blizzard). PC. Mission: Death From Above (in English). 2013-03-12.
↑ Blizzard Entertainment. StarCraft II: Wings of Liberty. (Activision Blizzard). PC. Mission: Wings of Liberty, Breakout (in English). 2010-07-27.
↑ 8.0 8.1 Blizzard Entertainment. StarCraft II: Wings of Liberty. (Activision Blizzard). PC. Protoss research (in English). 2010.
↑ 9.0 9.1 Blizzard Entertainment. StarCraft II: Wings of Liberty. (Activision Blizzard). PC. Armory upgrades (in English). 2010.
↑ Blizzard Entertainment. StarCraft II: Wings of Liberty. (Activision Blizzard). PC. Zerg research (in English). 2010.
↑ StarCraft Legacy staff. 2009-08-21. New BlizzCon 2009 Screens. StarCraft Legacy. Accessed 2009-08-28.
↑ 2011-10-23, BlizzCon 2011 - Starcraft 2: Heart of the Swarm and Blizzard DOTA - Art & Technology Panel (Full). YouTube, accessed on 2011-11-07
↑ Karune. 2007-10-15. StarCraft II Q&A - Batch 17. StarCraft II General Discussion Forum. Accessed 2007-10-15.
↑ Blizzard Entertainment. StarCraft II Map Editor. (Activision Blizzard) (in English). July 27, 2010