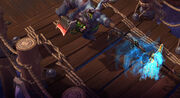 Dimensional shift is a psionic power demonstrated by the protoss. It allows the user to phase out of reality, becoming immune to all attacks and allowing them move, but preventing them from interacting reality during its duration.[1]
Game Effect
Edit
Dimensional shift is an ability usable by Tassadar in Heroes of the Storm.
References
Edit
Ad blocker interference detected!
Wikia is a free-to-use site that makes money from advertising. We have a modified experience for viewers using ad blockers

Wikia is not accessible if you've made further modifications. Remove the custom ad blocker rule(s) and the page will load as expected.