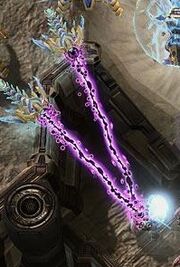 Disruption beams are focused energy beams used by sentries. They operate by dis-joining the molecular structure of the target and disrupting its atomic chains, liquefying light armor and soft tissues. The effectiveness of the beam decreases against targets with a high mass index or dense plating, as most of the sentry's power is allocated to its formidable support systems.[1] These beams excel at liquefying light armor and soft tissue.[2]
References
Edit
Ad blocker interference detected!
Wikia is a free-to-use site that makes money from advertising. We have a modified experience for viewers using ad blockers

Wikia is not accessible if you've made further modifications. Remove the custom ad blocker rule(s) and the page will load as expected.