This article concerns StarCraft/StarCraft: Brood War gameplay. You may be looking for:
Drone (StarCraft)
Unit
Race
Role

Hive Worker

Armament

Spines

Properties
Size

Small

Sight range

7

Production

Minerals

50

Control

1

Build time

20

Evolves from

Hotkey

D

Movement

Speed

5

Protection
Hit points

40

Armor

0

Combat
Ground attack

5

Cooldown

22

Attack range

1

Function
Evolves to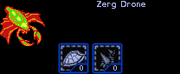 Drones "mutate" into the buildings they construct. The only way to stop a building from completing is to destroy it or to cancel it; in the latter event the drone is recovered and may be used for some other purpose. Once the building is complete the drone is deceased.
Drones benefit from burrow. Unless the enemy brings detectors burrowing can minimize the damage caused by a raid on harvesting operations. Once the enemy is repelled harvesting may immediately resume without requiring the replacement of all workers.
Acquisition
Level 1
Level 2
| | |
| --- | --- |
| Cost | 225 225 298 |
| Required | Lair |
Level 3
| | |
| --- | --- |
| Cost | 300 300 330 |
| Required | Hive |
Abilities
Edit
Many zerg ground units may burrow, rendering themselves invisible but incapable of moving or attacking.
Ad blocker interference detected!
Wikia is a free-to-use site that makes money from advertising. We have a modified experience for viewers using ad blockers

Wikia is not accessible if you've made further modifications. Remove the custom ad blocker rule(s) and the page will load as expected.