This is a disambiguation page: a list of articles associated with the same title. If an internal link referred you to this page, you may wish to change the link to point directly to the intended article.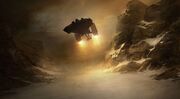 A dropship is defined as "a landing craft used to deploy troops and vehicles from an orbiting mothership to battle on a planet's surface." In the StarCraft universe, this remains true, though dropships are used for other tasks as well (ferrying of supplies, civilian transport, etc.)
Known dropship models include:
References
Edit
Ad blocker interference detected!
Wikia is a free-to-use site that makes money from advertising. We have a modified experience for viewers using ad blockers

Wikia is not accessible if you've made further modifications. Remove the custom ad blocker rule(s) and the page will load as expected.