You may be looking for:
Echo
Physical
Race
Gender

Female

Hair

Purple

Eyes

Brown

Political
Occupation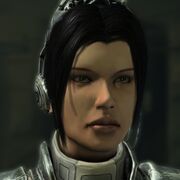 Echo has only appeared in the Galaxy Map Editor. She originally possessed a unit portrait similar to the ones used by Sarah Kerrigan and Nova. This was later altered in a patch to the one currently featured.[1] A reference to "Echo-17" having "nuclear clearance" exists in cut lines for the mission "Death from Above."[2]
References
Edit
Ad blocker interference detected!
Wikia is a free-to-use site that makes money from advertising. We have a modified experience for viewers using ad blockers

Wikia is not accessible if you've made further modifications. Remove the custom ad blocker rule(s) and the page will load as expected.