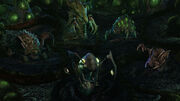 The evolution pit[1] aboard Sarah Kerrigan's leviathan is controlled by Abathur, the evolution master. Evolution missions are accessed through the evolution pit.
Mutations
Edit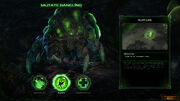 The player can select one of three mutations for each unit to use. The player can switch mutations freely between missions. However, only one mutation can be active at a time. These mutations will apply to variants of the base unit unlocked through evolution missions; ie, zergling upgrades affect raptors and swarmlings, but not banelings. Primal variants of the base units do not have these upgrades.
Development
Edit
References
Edit
Ad blocker interference detected!
Wikia is a free-to-use site that makes money from advertising. We have a modified experience for viewers using ad blockers

Wikia is not accessible if you've made further modifications. Remove the custom ad blocker rule(s) and the page will load as expected.