The evolution pit underwent considerable change during the development of StarCraft II: Heart of the Swarm.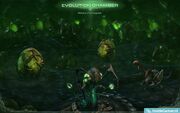 Formerly called the evolution chamber,[1] the structure enabled changes to units.
Each unit featured three upgrades and a final, irreversible choice. For instance, the zergling can get the Metabolic Boost, Posthumous Mitosis, and Rapid Genesis upgrades. Afterward it could become a raptor (which gains combat bonuses) or a swarmling (which spawn 3:1).[2]
As zerg units were unlocked/developed, they would fill up the evolution pit—similar to the armory from Wings of Liberty.[3] These mutations were made "on the fly" during gameplay.[4]
Zerglings
Edit
| | |
| --- | --- |
| Increases zergling movement speed. The zerglings "grow wings". | |
Banelings
Edit
Increases the speed of banelings.
+Increase the health of banelings by +5.
Causes banelings to roll instead of walk.

Acquisition

| | |
| --- | --- |
| Cost | 150 150 79 |
| Required | Lair |
Co-op Missions
Edit
In Co-op Missions, earlier in development Abathur was to have the evolution pit as a unique structure, similar to Karax and the solar forge. The evolution pit would have contained researchable upgrades to improve Abathur's toxic nests, locusts, and the symbiote mechanic that was removed later in development.[5]
References
Edit