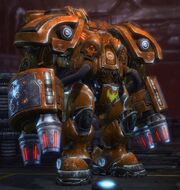 The firebat is a type of terran infantry specialized for close-quarters combat.
"Fire washes the skin off the bone and the sin off the soul. It cleans away the dirt. And my momma didn't raise herself no dirty boy."
Firebats are "armored assault troopers".[1] Firebats are often attached to provide support for marine squads.[2] They are typically armed with dual arm-mounted flame throwers and wear heat-resistant fireproof armor similar to those used by marines, although heavier.[1]
During the Guild Wars, a few firebats wore experimental CMC-230 XF armor, equipped with jet-packs. The armor had reliability issues, however, and so was quickly phased out.[3]
During the Great War, Terran Confederacy firebats were equipped with wrist mounted Perdition flamethrowers and CMC-660 combat suits.[1] The vulnerable flame tanks are protected by containment fields.[2] United Earth Directorate firebats were armed with the C-140 "Epyon" Plasma Incinerator Cannon.[4]
As with marines, many firebats are recruited or conscripted from "culturally challenged" persons. Such individuals undergo "neural resocialization" and receive aggression inhibitor implants as part of their training.[1] Firebats are almost exclusively composed of resocialized criminals and psychotic pyromaniacs.[5] Still, volunteers are not unheard of: in the Confederate Marine Corps, an individual had to have a PEB (Preferred Experience Base) of at least three months combat experience to become a firebat.[6]
Game Unit
Edit
StarCraft
Edit
The firebat's attack is optimized against groups of small-sized units, as it deals concussive splash damage. Firebats are most useful in the early game, as all of the base units for the three races are small. Supported by medics, firebats can stand up to zealots despite the large difference in health between them. With stims and medics, firebats can easily defeat swarms of zerglings. Unlike marines, firebats cannot attack air targets.
The firebat's attack is ranged, but it still works under the defiler's Dark Swarm. The attack also deals full damage against protoss shields, regardless of the size of the unit.
Abilities
Edit
Marines and firebats double their rate of fire and increase their movement rate for a limited period of time.
Acquisition
Level 1
Level 2
Level 3
Acquisition
Level 1
Level 2
Level 3
Quotations
Edit
Development
Edit
Firebats could set doodads (like trees) on fire.[7]
StarCraft: Ghost
Edit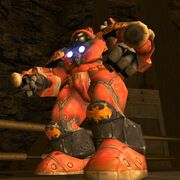 This article or section contains information about StarCraft: Ghost, which has been declared non-canon. Elements may be taken as 'flavor lore' however.
The content may be significantly out of date. Please do not add speculation to this article, and remember to cite a published source for details.
In StarCraft: Ghost multiplayer, the firebat was equipped with flamethrowers.[8] In addition, it launched laser-guided or manually guided napalm rockets. The rockets had greater range than the flamethrowers.[8][9]
Firebats moved quite slowly, being outpaced by light infantry and marines.[10]
In the Invasion Mode, a firebat cost three points.[10]
StarCraft II
Edit
Firebat
Unit
Race
Affiliation
Campaign
Role

Specialized anti-infantry attacker

Armament
Protection
Properties
Transport
size

2

Sight range

9

Production

Minerals

100

Gas

25

Supply

2

Build time

30

Produced from
Requires

Tech lab/Tech reactor (attached)

Hotkey

F

Movement

Speed

2.25

Protection
Hit points

100

Armor

1

Type
Armor type
Perdition flamethrower
Damage

8 (+4 vs light)

Targets

Cooldown

1.4

Range

2

Upgrade/level

+2/+1
The firebat is available in the StarCraft II: Wings of Liberty campaign. It is unlocked by playing the mission "The Evacuation", available after Chief Engineer Rory Swann was able to procure them for Raynor's Raiders.[11] The marauder replaced the firebat in multiplayer, because the firebat is effectively an alternative to the hellion.[12]
When compared to the hellion, the firebat is tougher when given Juggernaut Plating (especially against zerglings and zealots), has a faster rate of fire, can load into bunkers, and can be paired with medics or medivac dropships, making it better defensively and giving it more staying power. The hellion, however, is slightly cheaper (does not cost any gas), far faster, has more range and deals more damage per shot (against light units), making it more powerful offensively. The two also have different armor properties, giving them different counters. Overall, the firebat is considered to be more useful than the hellion in the campaign due to its medic/medivac pairings, along with the campaign being a setting where speed is less critical.[13]
Firebats are playable in Co-op Missions if the player chooses Jim Raynor as their commander.[14]
Firebats are strong against marines, reapers, zerglings, banelings, infested terrans, and zealots. They are weak against marauders, siege tanks, diamondbacks, stalkers, immortals, archons, roaches, and ultralisks.
Acquisition
Level 1
Level 2
| | |
| --- | --- |
| Cost | 175 175 190 |
| Required | Armory |
Level 3
| | |
| --- | --- |
| Cost | 250 250 220 |
| Required | Armory |
Acquisition
Level 1
Level 2
| | |
| --- | --- |
| Cost | 175 175 190 |
| Required | Armory |
Level 3
| | |
| --- | --- |
| Cost | 250 250 220 |
| Required | Armory |
Wings of Liberty
Edit
Incinerator Gauntlets

The firebat's attack area increases by +40%.

The upgraded gauntlet channels the flamer's fuel through multiple ports rather than the single port of the previous generation, resulting in a much wider flame without any loss of intensity, allowing your firebats to hold enemies at bay with a literal wall of fire.[15]

Incinerator Gauntlets was previously known as Bearclaw Nozzles.[16]

Juggernaut Plating

Firebats gain +2 armor

Juggernaut Plating strengthens the firebat's natural weak spots and thickens the helmet and chest pieces. This upgrade allows firebats to shrug off the attacks of other infantry units and soak up incredible amounts of damage from smart-arms fire.[15]
Ultra Capacitors

Attack upgrades improve attack cooldown of affected units by 5% per level.[17]

These self-replicating ultra capacitors reduce the reload time of weapons and systems. Now each of the weapon upgrades at the armory and engineering bay increases attack speed by 5% in addition to increasing damage.

Vanadium

Plating

Armor upgrades increase health of affected units by 5% per level.[17]

We have created a new lightweight alloy called vanadium. Vanadium diffuses weapon impacts much more efficiently than traditional armor plating, and it better preserves the life of our units. Now each of the armor upgrades in the armory and engineering bay increases unit life by 5% in addition to increasing armor.
Co-op Missions
Edit
Firebats are exclusive to Jim Raynor in Co-op Missions.
Abilities
Edit
Enables affected infantry to attack and move 50% more quickly.

Stimpacks
Marines, marauders and firebats can use stimpacks, increasing their attack and movement speeds by 50% for a period of time.
Usage
| | |
| --- | --- |
| Hotkey | T |
| Cost | 10HP |
| Duration | 15 |
Campaign Acquisition
| | |
| --- | --- |
| Unlock | Initially available. |

Incinerator Gauntlets
Increases firebat's attack radius by 40%.
Campaign Acquisition
| | |
| --- | --- |
| Unlock | Reach Raynor Level 4 |

Juggernaut Plating
Increases firebat's base armor by 2 and base HP by 100.
Campaign Acquisition
| | |
| --- | --- |
| Unlock | Reach Raynor Level 4 |
Nano Projectors
Increases attack range of firebats and heal range of medics by 2.
Campaign Acquisition
| | |
| --- | --- |
| Unlock | Reach Raynor Level 3. |

Mercenary Munitions
Increases the attack speed of Raynor's infantry by 15%.
Campaign Acquisition
| | |
| --- | --- |
| Unlock | Reach Raynor Level 15. |
Quotations
Edit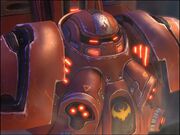 Development
Edit
Heroes of the Storm
Edit
A firebat hero has been listed as being under consideration for inclusion in Heroes of the Storm.[18]
Specialist Firebats
Edit
Known Firebats
Edit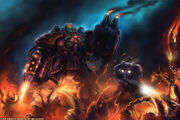 Main article: Terran firebats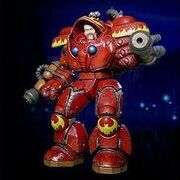 References
Edit
↑ 1.0 1.1 1.2 1.3 Underwood, Peter, Bill Roper, Chris Metzen and Jeffrey Vaughn. StarCraft (Manual). Irvine, Calif.: Blizzard Entertainment, 1998.
↑ 2.0 2.1 Hickman, Tracy (May 21, 2002). StarCraft: Speed of Darkness. Simon & Schuster (Pocket Star). ISBN 0-671-04150-9.
↑ Dietz, William C. (April 6, 2010). StarCraft II: Heaven's Devils. Simon & Schuster (Gallery Books). ISBN 978-1416-55084-6.
↑ "Q. What is the Main Armament of the UED Firebat?"
"A. The C-140 "Epyon" Plasma Incinerator Cannon?" Deathwing. 2000-12-07. SC 2 Related Trivia. Infoceptor. Accessed 2007-10-30. Image 1. Image 2.
↑ StarCraft II Photos. JoyStiq, accessed on 2010-05-03
↑ BlizzCon 2005 StarCraft: Ghost information. Terran Infantry. Artist: Blizzard Entertainment. Accessed 2007-09-08.
↑ 10.0 10.1 Park, Andrew. 2005-10-28. Starcraft: Ghost Updated Multiplayer Hands-On - Zerg Rush! Gamespot. Accessed 2008-11-09.
↑ Blizzard Entertainment. StarCraft II: Wings of Liberty. (Activision Blizzard). PC. Mission: Wings of Liberty, The Evacuation (in English). 2010-07-27.
↑ 2010-04-30, StarCraft II: GIantBomb interviews Dustin Browder. Blizzplanet, accessed on 2010-05-06
↑ 2011-05-31, May 2011 HoTS Fansite Interview. StarCraft Legacy, accessed on 2011-05-31
↑ 2015-08-08, Starcraft II: Legacy of the Void - Allied Commanders Mode - GamesCom 2015. YouTube, accessed on 2015-08-13
↑ 15.0 15.1 Blizzard Entertainment. StarCraft II: Wings of Liberty. (Activision Blizzard). PC. Armory upgrades (in English). 2010.
↑ 2010-02-28, StarCraft II Beta Game Images. StarCraft Legacy. Accessed on 2010-05-22
↑ 17.0 17.1 Blizzard Entertainment. StarCraft II: Wings of Liberty. (Activision Blizzard). PC. Protoss research (in English). 2010.
↑ 2015-12-28, BlizzCon 2015 Heroes of the Storm Deep Dive Panel Transcript. Blizzplanet, accessed on 2016-01-01
↑ STARCRAFT - FIREBAT TROOPER 7" action figure, Amazon.co.uk. Accessed on 2012-07-27
↑ 2012-05-04, Zerg Hydralisk. Figure of the Day, accessed on 2012-07-27