Ad blocker interference detected!
Wikia is a free-to-use site that makes money from advertising. We have a modified experience for viewers using ad blockers

Wikia is not accessible if you've made further modifications. Remove the custom ad blocker rule(s) and the page will load as expected.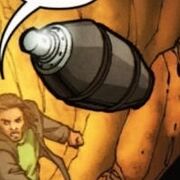 Fragmentation grenade (or simply "frag grenades") are simple, yet elegant[1] terran anti-personnel weapons[2] that are designed to disperse shrapnel upon exploding. They activated by pulling a pin.[3][4] The grenades explode with enough force to smash rock.[4]
A green light shines from the tip of the grenade.[3]
The AGP-2 "Thumper" grenade launcher is the primary armament of the vulture hover cycle,[5] and they can be fired from the C-14 rifle as part of an underbarrel grenade launcher.[6]
References
Edit
↑ Tychus - Heroes of the Storm, Blizzard Entertainment. Accessed on 2014-05-12
↑ Neilson, Micky (December 18, 2000). StarCraft: Uprising. Simon & Schuster (Pocket Star). ISBN 978-0743-41898-0 (eBook).
↑ 3.0 3.1 Furman, Simon (w), Federico Dallocchio et al. (p, i). "StarCraft #4" StarCraft 1 (4) (September 16, 2009) DC Comics (Wildstorm).
↑ 4.0 4.1 Furman, Simon (w), Federico Dallocchio, Mike S. Miller, Carlos D'Anda (p, i). "StarCraft #6" StarCraft 1 (6) (November 25, 2009) DC Comics (Wildstorm).
↑ Source: BlizzCon 2005 StarCraft: Ghost information. Terran Vehicles. Artist: Blizzard Entertainment. Accessed 2007-09-08.
↑ 2014-08-28, Marine Science. Blizzard Entertainment, accessed on 2014-07-09