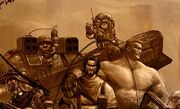 The gauss cannon is a heavy automatic anti-infantry gauss weapon, firing spikes at supersonic speeds.[1]
Man-portable and vehicle-mounted versions exist,[1] as well as robotic sentry versions, such as that used by the auto-turret.[2] Designs for auto-defense cannon turrets were available as far back as 2499.[3]
References
Edit
Ad blocker interference detected!
Wikia is a free-to-use site that makes money from advertising. We have a modified experience for viewers using ad blockers

Wikia is not accessible if you've made further modifications. Remove the custom ad blocker rule(s) and the page will load as expected.