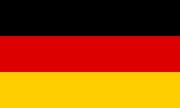 The Federal Republic of Germany was a nation-state of Earth, located in western Europe.
Following a period of social upheaval in the 22nd century, Earth's nations were united under the auspecies of the United Powers League in 2229, Germany among them. Its native language was banned soon after, English designated as the common tongue of the planet.[1]
Despite the end of Germany's political independence and the removal of some, if not all of its cultural identity, the country's legacy can be found in the Koprulu Sector. It is one of the few countries whose name is remembered, as was its role in the Second World War, though at least in Nova's case, it was thought that it was German pilots that used kamikaze tactics rather than the Japanese.[2] In addition, knowledge, if not use of the German language has been retained, despite the centuries-old ban.[3]
References
Edit
↑ Underwood, Peter, Bill Roper, Chris Metzen and Jeffrey Vaughn. StarCraft (Manual). Irvine, Calif.: Blizzard Entertainment, 1998.
↑ DeCandido, Keith R. A. (November 28, 2006). StarCraft: Ghost: Nova. Simon & Schuster (Pocket Star). ISBN 0-7434-7134-2.
↑ Grubb, Jeff (February 27, 2001). StarCraft: Liberty's Crusade. Simon & Schuster (Pocket Star). ISBN 0-671-04148-7.
Ad blocker interference detected!
Wikia is a free-to-use site that makes money from advertising. We have a modified experience for viewers using ad blockers

Wikia is not accessible if you've made further modifications. Remove the custom ad blocker rule(s) and the page will load as expected.