You may be looking for:
"You think your college years were stressful? Ghost academy classes are held next to a nuclear missile silo."
Ghost Academy
Structure
Race
Role

Special operations/Nuclear weapons storage structure

Production

Minerals

150

Gas

50

Build time

40

Produced from
Requires

Hotkey

G

Protection
Hit points

1250

Armor

1 (+2 with Building Armor)

Type

Armored
Mechanical
Structure

Function
Produces
Allows
Research

See below
The ghost academy is a terran structure in StarCraft II. It is required for the production of ghosts and with a factory can produce nukes.
Game Structure
Edit
Main article: Arm Nuke
In StarCraft II, ghosts maintain the ability to launch nukes. The laser pointer has been replaced with a blast footprint visible to the launching player; however, the opponent sees only a red dot.
Arm Silo with
Nuke
Arms the silo with a tactical nuke.
Nukes take 20 seconds to land, but they deal up to 300 (+200 vs. structures) damage in a large radius.
Researched Upgrades and Abilities
Edit

Personal
Cloaking
Usage
| | |
| --- | --- |
| Hotkey | C |
| Cost | 25 (+0.9 per second) |
Wings of Liberty
Edit
Moebius Reactor
Acquisition
| | |
| --- | --- |
| Purchased from | Ghost academy |
| Hotkey | M |
Building Upgrades
Edit
Wings of Liberty Campaign
Edit
All structures repair themselves to 50% life. All structure fires are automatically put out.
This all-in-one safety system automatically dispatches robotic drones to put out any fires and perform basic repairs on damaged structures. Although these drones are effective at doing basic repairs, they do not have a strong enough AI to perform the more delicate repairs needed to restore a structure past half life.[2]
Nova Covert Ops
Edit
In Nova Covert Ops, the ghost academy automatically produces nuclear missiles for no cost over a period of five minutes.[3]
Development
Edit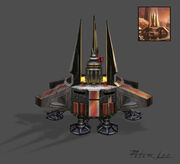 The ghost academy uses the former shadow ops render. It was capable of flying in early versions of the game, but this was later removed, as it was decided that only unit-producing structures should be capable of doing so.[4] Such a technique unbalanced the ghost academy in multiplayer, as players could move it to an obscure corner of the map and nuke the enemy at will.[5]
References
Edit