This article concerns StarCraft/StarCraft: Brood War gameplay. You may be looking for:
Goliath (StarCraft)
Unit
Race
Role

Combat Walker

Armament
Properties
Size

Large

Transport slots

2

Sight range

8

Production

Minerals

100

Gas

50

Supply

2

Build time

40

Produced from
Requires

Hotkey

G

Movement

Speed

4.7

Protection
Hit points

125

Armor

1

Combat
Ground attack

12

Air attack

10 (x2 attacks)

Cooldown

22

Attack range
Goliaths are best suited for the anti-air role, especially against large-sized air units. In StarCraft: Brood War, Charon Boosters allows it to outrange even guardians. The goliath's ground attack is less impressive for its cost; compared to two or three marines that deal more damage, the goliath trades firepower for staying power. Goliaths are large, but only take up two slots in a dropship or other transport vessel. It is also suitable for medium ground support with marines and firebats against larger units. Goliaths with Charon Boosters can be used as mobile missile turrets in bases.
Groups of goliaths are used by terran players when the opponent focuses heavily on aerial units. Given their role as anti-air units, goliaths are effective against virtually all air units save for small-sized air units such as mutalisks, scourges, and observers, but when paired with marines, this becomes less of a problem. Goliaths are ideal for backing down capital ship fleets if in significant numbers.
Acquisition
| | |
| --- | --- |
| Purchased from | Armory |
| Hotkey | P |
Level 1
Level 2
Level 3
+1 bonus to goliath ground attack per level
+4 to goliath air attack per level (+2 per missile)
+2 to vulture attack per level
+3 to siege tank tank mode attack per level
+5 for siege tank siege mode attack per level
Acquisition
| | |
| --- | --- |
| Purchased from | Armory |
| Hotkey | W |
Level 1Level 1
Level 2
Level 3
Increases goliath anti-air attack range by 3 (to 8).
Quotations
Edit
Development
Edit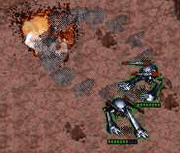 The concept of the goliath had its origins in the canceled Blizzard game Shattered Nations. The game featured walkers which were relabeled as "goliaths" for StarCraft.[1]
Goliaths appeared and functioned much the same in the StarCraft beta as they did in StarCraft proper. However, their weaponry consisted of chainguns and scatter missiles instead of autocannons and Hellfire missiles.[2]
During the late StarCraft alpha however, they had a different appearance than in the later stages of development. They were capable of using their machine guns, a flame thrower and missiles against ground targets.[3]
References
Edit
Ad blocker interference detected!
Wikia is a free-to-use site that makes money from advertising. We have a modified experience for viewers using ad blockers

Wikia is not accessible if you've made further modifications. Remove the custom ad blocker rule(s) and the page will load as expected.