Haven
Talk

2
5,358pages on
this wiki
You may be looking for:

Ehlna, otherwise known as "Haven"
"There's got to be somewhere out there
the aliens
haven't touched... some undiscovered paradise waiting just for us."
Haven
Physical
Climate

Temperate

Species
Dominant

Unidentified sapients (formerly, possibly indigenous)
Terrans

Other
Societal
Affiliation

Agrian Colonists
Haven is a temperate planet in/within range of the Koprulu Sector.[2]
At some point, Haven housed an indigenous species, protoss or otherwise. By the early 26th century, traces of their civilization could still be found.[3] Regardless, by this point in time, the planet was known to the terrans of the Koprulu Sector. However, while the Terran Dominion was willing to use the planet as an R&R stop,[4] the planet's proximity to protoss space deterred colonization efforts.[2][1]
Second Great War
Edit
During the Second Great War, the terran colony on Agria was evacuated by Raynor's Raiders.[5] The refugees landed on Meinhoff but left after an outbreak of a zerg infestation virus.[6] They resettled on Haven but they soon attracted protoss attention. The protoss detected the zerg virus amongst the settlers, and Executor Selendis led a fleet to purify the new colony. Protoss jamming cut off the colony's communications. At Hanson's request, the Raiders arrived at the planet, leading to a confrontation with the protoss. Selendis maintained that purification was the only solution to the problem, but was willing to let the Raiders handle the situation. Hanson meanwhile maintained that she was close to creating a cure for the virus.[1][2]
Plot branch :
The Raiders oppose the protoss (A canon)
"I ain't gonna stand by while you wipe out a whole colony, Selendis. Not while there's still a chance we can save 'em."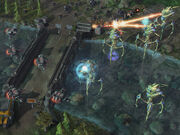 Raynor refused to cooperate with the protoss to kill all the colonists, believing in Hanson's ability to form a cure for the virus. The Raiders destroyed the protoss purifier, a mothership used to destroy an entire colony base in a single blast. Selendis ordered her forces to withdraw, complimenting Raynor on his skill in battle and hoping his faith in the colony was borne out.[2] Hyperion landed to disembark Dr. Hanson.[3] The colonists declared independence from the Terran Dominion,[7] and gave the Raiders the colonial flag of the old colony of Agria as a token of appreciation.[8]
Plot branch ends here
Plot branch :
The Raiders work with the protoss (b canon)
"I'm so sorry Ariel...but the executor's right. Believe me, they wouldn't have come all the way here if their data wasn't conclusive. Call off your fleet Selendis, this is a terran thing. I'll handle it myself."
The Raiders purged the colony of the infestation, saving whoever they could while eliminating those they couldn't. Hanson herself was infested and Raynor was forced to kill her. The protoss later gave Raynor a plaque as a token of appreciation.[1]
Plot branch ends here
References
Edit