You may be looking for:
This article or section contains information about StarCraft: Ghost, which has been declared non-canon. Elements may be taken as 'flavor lore' however.
The content may be significantly out of date. Please do not add speculation to this article, and remember to cite a published source for details.
Helios
Astrographical
Region
Sector
Physical
Dominant terrain
classification

Temperate

Tileset(s)

Desert[1]

Species
Dominant
Indigenous

Indiginous sapients (extinct)

Societal
Affiliation

Terran Dominion

Settlements

Alien ruins
Helios, a temperate world, orbits an uncharted sun on the fringe of the Koprulu Sector. It houses a set of overgrown ancient ruins, remainders of a war waged by a long-dead civilization. The ruins feature a pyramid and a crypt. A khaydarin crystal lies beneath the ruins. Uncovered by torrential rains that frequent the summer years, the ruins became exposed, once again igniting the battle for the crystal.[2]
Crown Prince Valerian Mengsk opened a veteran's hospital on the planet on the eve of the Second Great War.[3][4]
Appearances
Edit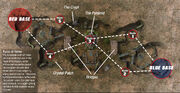 Helios was originally set to appear in StarCraft: Ghost multiplayer game modes[2] and going by screenshots, singleplayer as well.[5] It was later featured in StarCraft: The Board Game and its expansion[6] and is mentioned in a UNN news blurb in StarCraft II: Wings of Liberty.[3][4] A Helios tileset appears in the game.[1]
Helios is named after the sun god in Greek mythology. Helios was often personified as Titan, Hyperion and Apollo.
References
Edit
↑ 1.0 1.1 Blizzard Entertainment. StarCraft II Map Editor. (Activision Blizzard) (in English). July 27, 2010
↑ 2.0 2.1 Helios StarCraft: Ghost Invasion Mode. Helios Invasion Mode map. Accessed 2009-03-19.
↑ 3.0 3.1 Blizzard Entertainment. StarCraft II: Wings of Liberty. (Activision Blizzard). PC. Cinematic: Public Enemy. (in English). 2010.
↑ 4.0 4.1 Blizzard Entertainment. StarCraft II: Wings of Liberty. (Activision Blizzard). PC. Special Report: UNN newscast after "Liberation Day". (in English). 2010.
↑ 2005-11-08, StarCraft: Ghost Questions & Answers. Gaming Steve, accessed on 2011-05-30
↑ Fantasy Flight Games staff. 2009-01-06. Fantasy Flight Games (StarCraft - Support) (Brood War rules PDF). Fantasy Flight Games. Accessed 2009-01-09.
Ad blocker interference detected!
Wikia is a free-to-use site that makes money from advertising. We have a modified experience for viewers using ad blockers

Wikia is not accessible if you've made further modifications. Remove the custom ad blocker rule(s) and the page will load as expected.