Herbie
Physical
Race

Goldfish

Gender

Male

Hair

None
"Herbie" is the nickname of a goldfish seen in the immortal's portrait, named by Dustin Browder.[1]
The following section contains information from a previous version of StarCraft II which is no longer valid.
During StarCraft II development, on the highest graphic settings, the interface added more lighting and reflection to the glass of the immortal's tank. Herbie and other elements, except for the protoss' head, became less visible.
In the final product, the immortal's portrait changed a bit, but Herbie is still occasionally visible in-game, and can be seen if you open the immortal portrait in the map editor's visualizer.[2]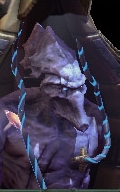 References
Edit
Ad blocker interference detected!
Wikia is a free-to-use site that makes money from advertising. We have a modified experience for viewers using ad blockers

Wikia is not accessible if you've made further modifications. Remove the custom ad blocker rule(s) and the page will load as expected.