Hercules Dropship
Unit
Race
Affiliation
Campaign
Role

Heavy transport

Properties
Transport
capacity

30

Sight range

11

Production

Minerals

300

Gas

200

Supply

6

Campaign Cost

15 zerg research points[1]

Build time

70

Produced from
Requires

Hotkey

H

Movement

Speed

2.75

Protection
Hit points

500

Armor

3

Type
Armor type
Function
Abilities

Instantaneous deployment
Escape pods
The Hercules dropship is a terran aerospace vehicle.
The Hercules dropship is a retrofitted version of the Hercules-class cargo ship, carried out by Raynor's Raiders. They have a reinforced superstructure thanks to Egon Stetmann's research of zerg biology. It has a large carrying capacity and can deploy troops at record speeds. Should the Hercules be destroyed, its occupants can escape in survival pods. While they will suffer damage, most would agree that it is preferable to the alternative of death.[2]
Game Unit
Edit
The dropship is available in the Wings of Liberty single-player campaign. The Hercules is unlocked through spending 15 zerg research points. It has 30 passenger slots, allowing it to carry nearly four times the number of passengers as normal transports can, and deploys all of its units simultaneously.[1] Transported units survive a Hercules' destruction. They sustain damage and are ejected in survival pods.[3] The Hercules may be used to transport thors, and can carry three of them at a time, since each thor takes up eight slots when transported. This leaves six slots to spare.
Hercules

Campaign
Cost

15 zerg research points

Researched at
Notes

Unlocks the Hercules. This cannot be unlocked if the predator has been unlocked.[2]

Edit
Abilities
Edit

Rapid Deployment
Notes
The Hercules deploys loaded troops almost instantly.
Edit
Terran Ship Plating

Researched at
Hotkey

P

Properties

| | | | |
| --- | --- | --- | --- |
| Minerals | 150 | 225 | 300 |
| Gas | 150 | 225 | 300 |
| Research time | 160 | 190 | 220 |

Notes

Increases the armor of all terran air units.

Edit
Vanadium

Plating
Campaign
Cost

5 protoss research points

Researched at
Notes

Armor upgrades at the armory and engineering bay increase health by 5% per level. Vanadium better disperses weapon impacts than standard armor.[4]

Edit

Regenerative Bio-Steel

| | |
| --- | --- |
| Campaign | |
| Cost | 20 zerg research points |

Acquisition
Researched at

Notes

Damaged ships and vehicles recover hit points over time, at a rate of 0.6015 each second, 3 seconds after taking damage.[2]

Edit
Quotations
Edit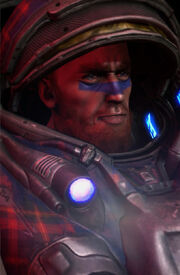 Development
Edit
The Hercules dropship uses the same model as colony ships, only smaller. Indeed, the dropship stemmed from the conception of the colony ship.[5]
The Hercules has two unused Hyperion armory upgrades; Rapid Deployment and Survival Pods. In the release version of the Wings of Liberty campaign, the abilities are enabled by default for Hercules and do not need to be researched. A third (likely) unused upgrade is also present as a button texture. It does not have a proper name however and is simply named 'hurculescantrainunit', alluding all Hercules dropships to have been able to essentially become mobile barracks.[6]
References
Edit
↑ 1.0 1.1 StarCraft Legacy staff. 2010-04-22. April 19 Single Player Campaign Info and Press Event. StarCraft Legacy. Accessed 2010-04-23.
↑ 2.0 2.1 2.2 Blizzard Entertainment. StarCraft II: Wings of Liberty. (Activision Blizzard). PC. Zerg research (in English). 2010.
↑ 2010-07-24, Wings of Liberty Campaign Overview Accessed 2010-07-24.
↑ Blizzard Entertainment. StarCraft II: Wings of Liberty. (Activision Blizzard). PC. Protoss research (in English). 2010.
↑ 2010, Starcraft 2: Colonist Ship. Deviantart, accessed on 2011-07-20
↑ Blizzard Entertainment. StarCraft II Map Editor. (Activision Blizzard) (in English). July 27, 2010